Hide the Sashimi -- Norwegian Salmon Prices Are Going Wild
(Bloomberg) -- That salmon and cream cheese bagel to get you through the mid-morning slump is fast becoming a luxury.
Prices for Norwegian salmon have surged to a record as faltering supply combines with booming global demand. More health-conscious consumers and rising consumption in developing nations like Brazil and China mean the world can't get enough of the fish used in delicacies from blinis to sashimi.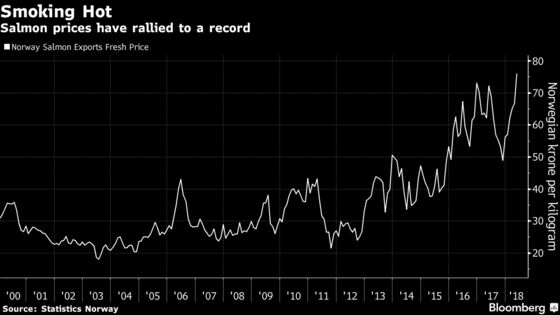 Demand in those countries and elsewhere has been "crazy good," said Gorjan Nikolik, a seafood analyst at Rabobank International Ltd.
The market is also being squeezed from the supply side. Production is taking longer than expected to recover after a disastrous 2016, when salmon stocks around the world were devastated by parasitic sea lice, including in top producer Norway, while toxic "red tide" algae blooms killed millions of fish in Chile, the second-largest supplier.
This year, cold Norwegian waters meant salmon ate less and stayed smaller, said Nikolik. Chilean farmers have also harvested fish earlier because of concerns about more algae blooms, he said.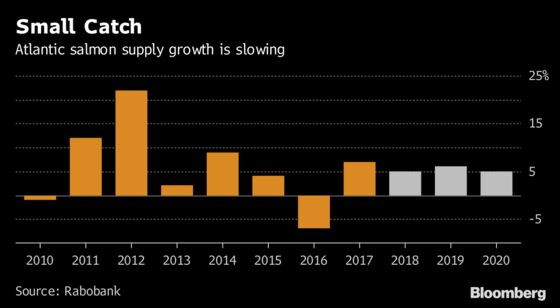 A weak start to Alaska's salmon run, when wild fish migrate to the upper reaches of rivers to spawn, is also adding to supply concerns, according to Bloomberg Intelligence analyst Alvin Tai.
Norwegian salmon prices have almost doubled in the past year to a highest-ever 76.09 krone ($9.41) a kilogram, according to Statistics Norway.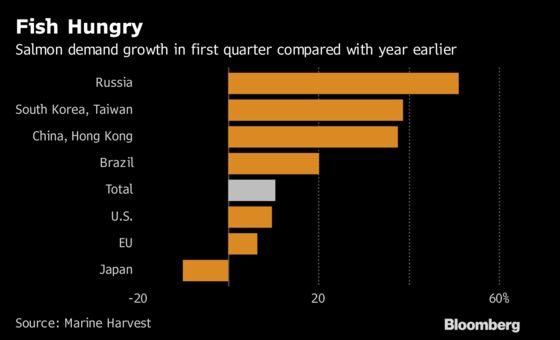 "The expectations were for recovery in supply and it didn't happen," Nikolik said in a phone interview. "The market really was pushed to a new high."
It's not all bad news though. More supplies are expected and prices should ease in time for the summer barbecue season in Europe and North America, when consumers buy more meat and cut back on the fish, Nikolik said.