Hey Buddy, Can You Spare 2 Million for Coffee?
ONE. MILLION. PERCENT. That's how high inflation will climb in Venezuela by year's end, according to the latest forecast by the International Monetary Fund.
The troubled South American country, once the region's wealthiest, is caught in an economic crisis and hyper-inflationary maelstrom experienced only by a handful of states such as Zimbabwe and the Weimar Republic. The comparison comes from the Fund itself.
Venezuela's economy has collapsed since crude prices nosedived nearly four years ago and authorities refused to adjust. Misguided price and foreign exchange controls have added to the distortions. Hyperinflation has taken root over the past year, sinking the population deeper into poverty. But while Venezuelans flee, President Nicolas Maduro says the crisis results from an "economic war" waged by his political opponents.
The administration has been resorting to policies that paper over the problem — the latest being a new currency that will lop off zeros from bills in circulation. The new money was scheduled to hit the streets in August but Maduro now says the release will be a bit delayed and five zeros dropped from the bolivar.
Escaping hyperinflation is challenging, with few countries managing without a monetary shock or axing their central banks. Adopting currency boards or abandoning the currency, usually in favor of the U.S. dollar, was the way out in some cases.
There's no indication Maduro and his team are considering such routes — for Venezuelans, this means daily life will continue to descend into chaos.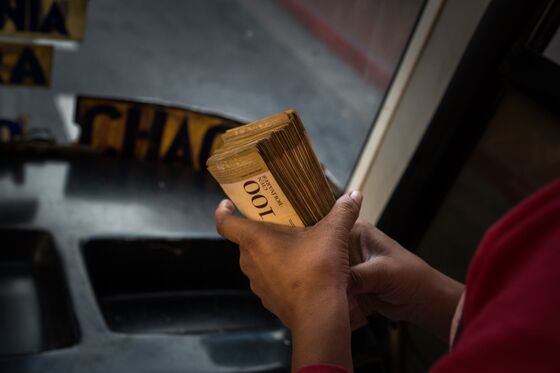 Cohen's claim | Trump's former personal attorney is prepared to tell federal investigators the president knew in advance about a June 2016 meeting during which Russians were expected to offer damaging information about Hillary Clinton. Michael Cohen's contention, reported last night by CNN, would contradict testimony and public denials of the president, his son and other campaign officials.
Craving efficiency | U.S. sanctions lifted under the 2015 nuclear deal are set to return within days, as the Trump administration heaps pressure on Iran. The curbs will exacerbate economic woes deepened by decades of embargoes, corruption and cronyism at a time when record temperatures have led to power outages and water shortages have triggered protests. Golnar Motevalli reports from Tehran, where residents worry the economy is spiraling downward.
Boxed in | The European Union rejected a key part of the U.K.'s plan for a trade deal, leaving Theresa May short of options. Compromising with the EU by staying in its customs union would anger Brexit-backers in her Conservative Party, while crashing out of the bloc is the chaos scenario most feared by U.K. businesses. Their dire warnings could be the prime minister's best hope, if they persuade lawmakers over the summer that a cliff-edge split is a risk too far.
Flashing red | Turkey faces a new risk after Trump threatened to impose "large sanctions" over the detention of an American pastor. The latest crisis between the NATO allies comes at a fragile moment for Turkey's economy, whose financing depends on short-term flows of international capital that are typically sensitive to disputes with the U.S.
Nigerian politics upended | President Muhammadu Buhari can no longer pin his hopes of winning a second term in February on a feeble opposition. After missteps on economic and security issues, more than 50 lawmakers quit his party this week. David Malingha and Yinka Ibukun look at how the defections are reinvigorating the People's Democratic Party, which ruled Africa's most-populous nation from the end of military rule in 1999 until Buhari's 2015 election.
Cambodian strongman leader Hun Sen is set to extend his more-than-three-decade-run in power in Sunday's election, but he has to make it look credible enough to prevent the EU and U.S. from eliminating duty-free access for the garment industry.
Trump is once again commenting on economic indicators before their publication, predicting at a visit to an Illinois steel mill that data set for release this morning in Washington will show the U.S. economy is in "terrific" shape. A Bloomberg survey points to a 4.2 percent expansion in the second quarter.
North Korea released the remains today of some U.S. war dead on the 65th anniversary of the armistice, marking the first tangible outcome of Trump's summit with Kim Jong Un.
And finally... Stargazers in Europe, Africa and Asia will witness the longest lunar eclipse this century tonight when the sun, moon and Earth align. Known as a "blood moon," Earth will cast a red shadow on its celestial companion for nearly two hours, from about 8:30 p.m. Central European Time. Mars will appear below the moon at its closest distance to Earth since 2003. Some viewers will also be able to see Jupiter and Venus. Read all about the New Space Age in our Bloomberg Businessweek special issue and on our Hyperdrive website.