Hertz, Creditors in $11 Billion Standoff Over 494,000 Used Cars
(Bloomberg) -- Bankrupt Hertz Global Holdings Inc. and its bondholders are squaring off over how to shrink its nearly half-a-million vehicle fleet. Market watchers say the outcome could upend the multi-billion dollar lease-backed ABS industry.
The cars are housed in an entity linked to Hertz's asset-backed securities and leased to the rental giant. Normally, when a company with ABS files for bankruptcy, it must choose to confirm or reject the entire master lease tied to the debt. If it keeps the lease, it has to continue making payments on the vehicles as it offloads them piecemeal. If it walks away, all of the collateral is liquidated to pay back bondholders.
Hertz wants a judge to allow it to convert the master lease into 494,000 separate agreements so it can reject the terms on 144,000 vehicles. That would allow Hertz to save roughly $80 million a month while it hangs onto the remainder of the cars as it seeks to emerge from bankruptcy a viable company. If the motion fails, Hertz may press for a reduction in payments to creditors, according to people familiar with the matter.
The standoff raises the stakes in what is already 2020's largest corporate bankruptcy. Hertz is seeking to avoid liquidation and strengthen its balance sheet via the restructuring, while bondholders with billions of dollars at risk who'd grown confident of their chances of being paid back are now threatened with losses. Moreover, industry insiders worry that if Hertz is successful in court, it would re-define the rules that have long governed the ABS market.
"It's going to be a real showdown," said Philip Brendel, analyst with Bloomberg Intelligence. "Hertz is taking an aggressive posture, but if it rejects the master lease, it doesn't have a fleet and this bankruptcy looks more like a liquidation."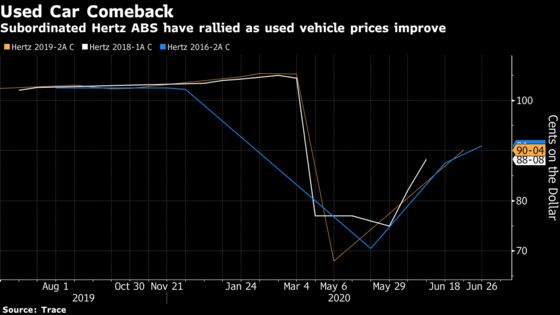 Hertz almost certainly doesn't want that to happen.
Yet neither do its ABS creditors. For them, the best bet for maximizing the recovery on roughly $11 billion of bonds would be to have Hertz make lease payments on all the vehicles while it sells them gradually, using its industry connections to command top dollar.
With that kind of leverage, Hertz may try to extend a 60-day postponement on its lease payments due to expire later this month. The company may also press bondholders to accept less going forward, said three of the people familiar with the matter who asked not to be identified discussing private negotiations.
Still, bondholders may not be willing to give in so easily. A resurgent used-car market has strengthened their hand in recent months, making the threat of Hertz rejecting the master lease in its entirety less ominous. Used-vehicle prices in the first 15 days of June were up 6.6% over May and 4.4% above the same period in 2019, according to Manheim, the nation's largest used-car auction.
Hertz didn't respond to a request seeking comment.
Both sides are now waiting to see what happens with Hertz's court motion. A decision could come as soon as July 6.
So are ABS industry experts, who say that if Hertz is allowed to reject some leases but not others, it could undermine the $25 billion market for rental-car related ABS, as well those for farm-equipment and construction-machinery financing, by making the bonds riskier. That could raise funding costs for borrowers and ultimately consumers, representatives for the Structured Finance Association argued in a proposed brief filed last week.
"Granting Hertz's motion would disrupt access to the capital markets for entire industries that depend on favorable financing terms provided via ABS structures -- and thus the national economy," the group wrote.
When credit graders and investors assess the risks of an ABS, they typically do so under the assumption that leases tied to all of the cars backing their bonds would be accepted or rejected during a bankruptcy.
If Hertz is allowed to selectively reject leases, it effectively leaves bondholders with a different pool of collateral than they were expecting when they bought the securities. That could hamper their ability to be made whole by selling the cars backing the bonds, the thinking goes.
"They have manufactured an assault on the securitization structure from which they raised tens of billions of dollars effectively secured by the master lease, in an effort to shift to the ABS lenders the hundreds of millions of dollars, or more, of economic cost from the depreciation on the vehicles," lawyers representing ABS participants said in court papers.
Hertz has dismissed the arguments about upending the structured-finance market as speculative and irrelevant, as have first and second-lien creditor groups.
Thanks to the recovery in used-vehicle prices, many Hertz ABS investors have grown more confident they'll get a full recovery on their bonds. Slices of ABS have rallied since the company filed for bankruptcy in May, with the portions of the securities that are first in line for repayment now trading near par. Junk-rated C slices of many Hertz deals, which are further back in line for repayment, have rallied 10 points or more since May to trade around 90 cents on the dollar.
"This is gamesmanship," Bloomberg Intelligence's Brendel said. "It will be a constant negotiation. If the judge rules against Hertz, the company will say, 'you took away my sword, now I'll take out my club.'"
The case is Hertz Corp. 20-11218, U.S. Bankruptcy Court, District of Delaware (Wilmington)