Here's Where Things Start to Look a Little Toppy: Taking Stock
(Bloomberg) -- After virtually ten straight sessions of stocks going up, we finally have the makings of what could be a near-term break in the action. And it's not just because the futures are off ~25 handles from Wednesday's peak, which is a blip in the grand scheme of things lately.
First off, the fact that a substantial chunk of the 234-handle bounce in the S&P 500 can be attributed to Powell's seemingly more accommodating about-face isn't lost on anyone.
But the "Fed put" rally could be losing some steam if yesterday's session was any indication: Upticks tied to dovish comments out of multiple central bankers and a market-friendly FOMC minutes were either short-lived or overshadowed by unrelated headlines tied to the shutdown and the trade war.
Powell speaks today at the Economic Club of Washington D.C. (here's our preview), his first speech since those well-received comments on Jan. 4, but what could he possibly say, or walk back even further, that could stoke the market again?
It might be naïve to expect a favorable risk/reward going into the noon speech, as Powell's shift in tone is clearly more priced in now than in weeks past. In other words, don't be surprised if this turns into a sell-the-news event, even with five other Fed speakers scheduled to relay comments at various points during the day.
For what it's worth, the economics team over at Goldman Sachs, led by Jan Hatzius, wrote in a note to clients last night that even though the market is pricing in a roughly 50% chance of recession over the next year, the risk is actually much lower than that:
"We use statistical models introduced by Fed researchers to translate two market measures — the slope of the yield curve and credit spreads — into a market-implied recession probability. Both measures now indicate sharply higher recession risk than a few months ago, and combining the two suggests that the market sees a roughly 50% chance of recession over the next year"
"In our view recession risk remains fairly low, in the neighborhood of 15% over the next year. While we do expect a growth slowdown in 2019, the two key historical recession risk factors — inflationary overheating and financial imbalances — remain largely absent"
The chart below, from Hatzius's note, shows the recession risk over the next year as implied by the slope of the yield curve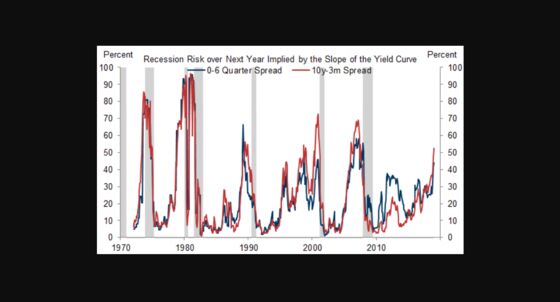 OK, back to why the market may be feeling toppy near term.
The mid-level China trade talks are over. Originally scheduled for two days, the extension through Wednesday yielded further optimism on the matter. There's no deal on the table as of yet, but China did put out a statement yesterday that said the meetings were "extensive, in-depth and detailed," adding that the two sides agreed to remain in close contact over the issue.
I have to think that some of the recent tailwind in stocks can be pinned on the lead-up to these talks, and that's not a great thing if market participants see the outcome as a step down from the enthusiasm shown from our commander in chief Tuesday morning, when he tweeted that the talks "are going very well!"
And just like how it's potentially more dangerous to plow further into equities on Powell at this point, I'd think the same can be said about a trade situation that's in dire need of continued momentum.
The Bloomberg Economics team spells out the scenario no rabid bull wants to hear: "Given the challenges in the talks, it is possible that a deal may not reached by the March 1 deadline. Even so, positive engagement, particularly with clear communications on even an extended timeframe, is conducive. That said, the possibility of a breakdown can't be fully ruled out."
At least it doesn't appear as though the trade meetings were a "total waste of time," like the meeting between Trump, Chuck and Nancy -- though, on that front, we are getting close to the point where the prolonged shutdown could starting becoming a real headwind for this market.
Resistance From a Mile Away
Many traders have been eyeing 2,600 on the S&P 500 as the next big level of resistance to watch -- these are probably the same people who had trouble finding proper support lines once we dipped decisively below the 2,500 mark.
But a quick glance through ye olde MSG box shows BMO ("initial overhead resistance"), Baird ("significant overhead resistance"), Nomura Instinet ("resistance line"), Bay Crest Partners ("further strength is capped"), and others throwing out warning signs about potential selling once we approach and/or cross 2,600. Case in point, we actually came ~5 points from touching the whole number yesterday afternoon before a quick fade engulfed the tape.
Regardless, it's one to watch if we can trudge back up to positive territory at some point today or tomorrow.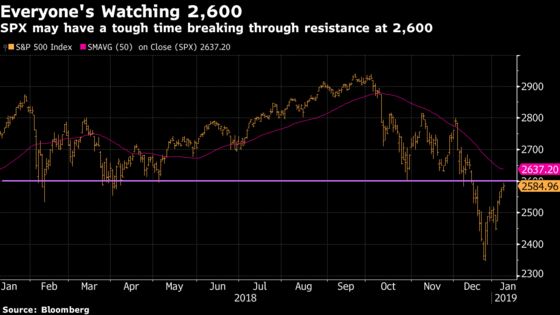 Consumer, especially retail, is all over the place today: Target has given up all of its pre-market gains after releasing monthly comps, Kohl's is sliding >7% after publishing holiday sales, Bed Bath & Beyond is screaming higher by 16% on a beat, and teen retailer Zumiez is up ~10% on strong preliminary numbers
Homebuilders may keep the rally going thanks to KB Home's 4% pop post-earnings; the group was strong yesterday in sympathy with Lennar, which surged on comments about improving demand
Rails after Union Pacific, which has already had a huge week on their COO hire, said December carloadings were stronger than expected
Auto suppliers and lighting companies with exposure to Europe could have negative read-through from Halfords (shares tanked 23% in London) and Osram Licht (fell >6% in Frankfurt), respectively, after quantitative and qualitative warnings from both companies
There's some big calls out on several social media momentum names: 1) BofAML double upgrades Twitter to a buy after a semi-annual user survey concludes that there's "modest improvement in reported usage ratios (churn remains elevated) with growing penetration metrics and usage intentions"; 2) Cowen lifts Snap to a market perform following results form its ad buyer and consumer survey; and 3) Morgan Stanley slashes Yelp to an underweight on expectations for lower monetization and negative revisions.
Plenty of movement in the defense and aerospace sector too: 1) Morgan Stanley upgrading Boeing to an overweight and downgrading Lockheed Martin to equal-weight on preference for companies with visibility to FCF growth and value creation potential; 2) Susquehanna initiating on a host of names, with positive ratings for Boeing, Lockheed, and Raytheon; 3) Vertical Research upgrading Lockheed to a buy; 4) JPMorgan raises machinery name Oshkosh partly on visibility into its defense business.
Tick-by-Tick Guide to Today's Actionable Events
8:00am -- FCEL earnings
8:30am -- Initial Jobless Claims
8:35am -- Fed's Barkin speaks on long-term growth
9:00am -- BOJA extraordinary shareholders meeting
9:30am -- Chamber of Commerce CEO Thomas Donohue delivers "State of American Business" address
9:45am -- Bloomberg Consumer Comfort
10:00am -- Wholesale Inventories
10:30am -- EIA natgas storage
11:30am -- WWE and MAT execs in fireside chat at CES
12:00pm -- Powell speaks to Economic Club of Washington D.C.
12:40pm -- Fed's Bullard speaks on economy and monetary policy
1:00pm -- Fed's Evans speaks at economic forecast event
1:20pm -- Fed's Kashkari speaks on immigration and growth
2:00pm -- ESIO extraordinary shareholders meeting
4:15pm -- SNX earnings
5:30pm -- Fed's Clarida speaks to Money Marketeers of NYU
11:00pm -- GOL analyst meeting