Turkey Rate Hike Hasn't Arrested Lira Slide. History Shows Why
(Bloomberg) -- Turkish President Recep Tayyip Erdogan finally conceded to his financial lieutenants' currency-rescue plan, but a look back across recent eleventh-hour rate hikes in emerging markets shows it's not enough to get the lira back on track.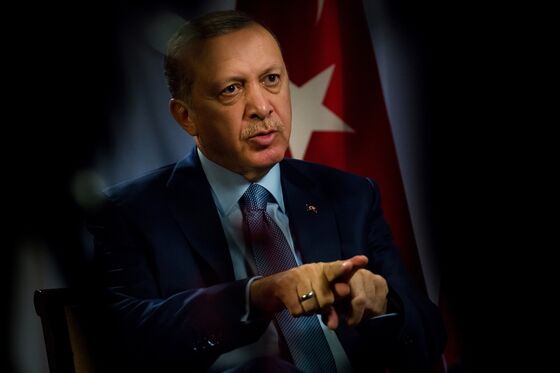 It took three years for Russian Central Bank Governor Elvira Nabiullina to reap rewards for her ultra-orthodox monetary policies, through an influx of investment and low volatility. Argentina saw immediate payoff for its extreme rate move this week -- of more than double Turkey's 300 basis-points hike.
The lira has remained volatile since the emergency decision two days ago with losses continuing on concern the rate increase will only provide temporary support. Fitch Ratings said another hike could be possible next month if the currency continues to slide. Economists at UBS Group AG argued in a research note that the central bank will need to deliver another 200 to 250 basis points of tightening.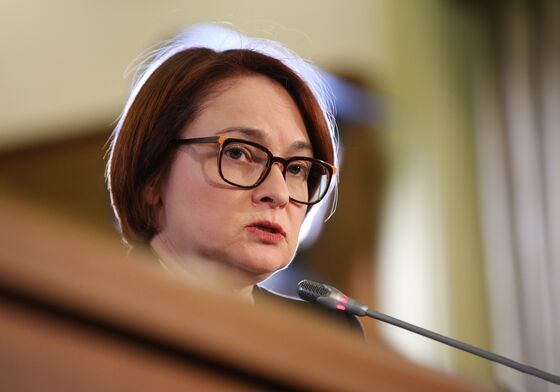 Ideally, Erdogan should be taking his cue from the same place that Nabiullina learned her tricks: Turkey's own central bank. Back in early 2014, the country's policy makers defied political pressure and bumped up rates in an emergency meeting, setting an example for the rest of the emerging world. That sentiment was evoked by International Monetary Fund Managing Director Christine Lagarde this week when she urged the government in Ankara to to preserve the independence of its central bank.
"History repeats itself," said Julian Rimmer, a London-based trader at Investec Bank Plc. "The first time as tragedy, then as farce."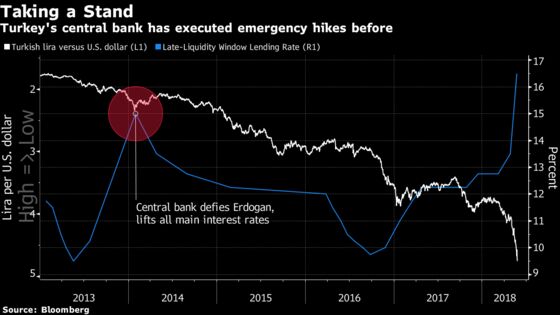 Here are some of the recent examples from emerging markets:
As plunging oil prices combined with sanctions to send the ruble into a tailspin in December 2014, central bank chief Nabiullina called a late-night emergency meeting and jacked the key rate up to 17 percent. After an initial rebound, the ruble continued its slide into 2015 before making a gradual recovery.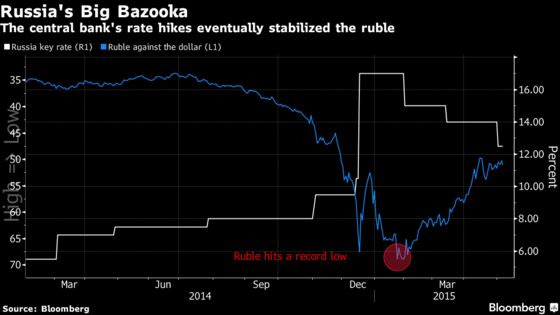 Since then, the policy has been to keep borrowing costs elevated and allow the ruble to trade freely, an approach that has helped the currency outperform peers in recent years. The stance led Morgan Stanley to dub the Russian central bank developing Europe's "most orthodox."
"Russia has done a very good job compared to others in the last few years," veteran bond investor Jim Rogers said on the sidelines of the St. Petersburg International Economic Forum on Thursday. "Turkey can learn from Russia,"
The one big difference with Turkey? The central bank was left alone by politicians even as the Kremlin's relations with the U.S. deteriorated.
When it comes to shock and awe, Argentina's policy makers' recent barrage of rate hikes make Turkey's move look rather demure.
Their response -- three increases in quick succession that took the key rate to 40 percent -- set a high watermark among major economies. They also started talks for a $30 billion deal with the International Monetary Fund. That, at last, buttressed the peso, which has lost about a quarter of its value this year, the most among peers, although the lira is now a close contender.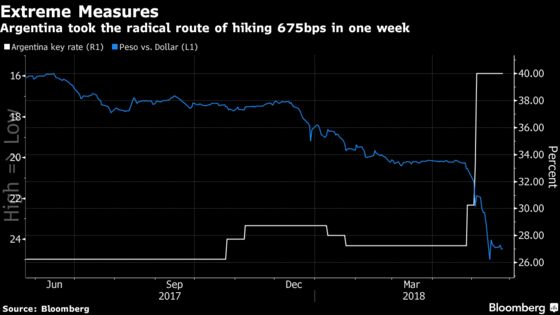 Win Thin, the New York-based head of emerging-markets strategy at Brown Brothers Harriman & Co, was reassured: "Rate hikes don't always work. They have a better chance of working if there is a comprehensive plan, like Argentina."
The ex-Soviet republic once laid claim to the highest key rate globally. Policy makers in Kiev didn't drag their feet with a series of rate hikes in February and March 2015 aimed at arresting a plunge in the hryvnia after its peg was abandoned as a condition for negotiating an IMF bailout. The nation's war with Russian-backed separatists had hobbled the economy and ultimately drove the government into default.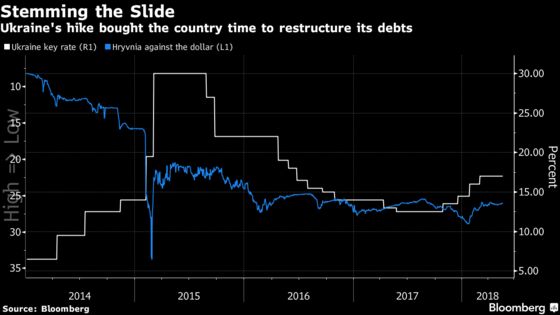 The measure, taken alongside currency controls, stemmed the hryvnia's slide and bought Ukraine time to restructure its dollar debt. Since then, currency controls have been gradually lifted and the interest rate reduced to 17 percent, which is still (just) the highest rate in Europe. But the hryvnia never recovered its former value.
It's becoming harder and harder to imagine, but back in 2014 Turkey's own approach to monetary policy was the model other central banks were using at times of crisis. In January of that year, Turkey's central bank raised all its main interest rates at an emergency late-night meeting in an effort to shore up the lira amid domestic upheaval and a global emerging-market rout. The currency recovered after the move that went against government pressure and reversed years of policy aimed at stoking growth.