Here's What Trump Overlooks on Brazil and Argentina Currencies
(Bloomberg) -- Terms of Trade is a daily newsletter that untangles a world embroiled in trade wars. Sign up here. 
Recent actions by policy makers in Brazil and Argentina cast doubt on U.S. President Donald Trump's view that the countries may be deliberately weakening their currencies.
This week, Trump said he'll restore tariffs on steel and aluminum exports from Brazil and Argentina, as they "have been presiding over a massive devaluation of their currencies, which is not good for our farmers."
While it's true the Brazilian real and Argentine peso have weakened against the greenback this year, policy makers in Brasilia and Buenos Aires appear worried rather than happy about this.
"Trump should be thanking Brazil and Argentina," said Andre Perfeito, chief economist at Necton, a Sao Paulo-based brokerage. "Their governments have adopted measures that seek to rein in the depreciation of their currencies."
Here are some of the reasons why Brazil and Argentina aren't guilty of trying to manipulate their currencies:
Brazil Currency Intervention
Brazil's central bank has intervened in the foreign exchange market by selling dollars, which tends to slow the depreciation, and make the real stronger than it otherwise would have been. Bank President Roberto Campos Neto has repeatedly said that the currency is floating, and that there's no specific target. Still, the monetary authority's actions may have been a factor in preventing the currency from weakening past 4.30 reais per dollar in recent weeks.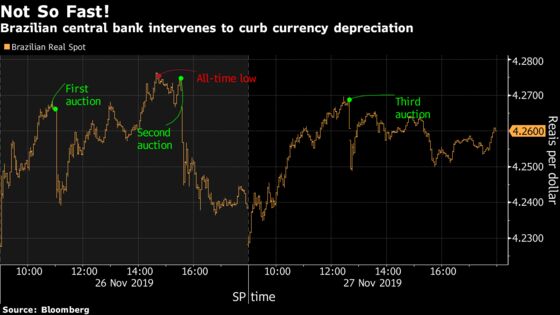 Brazil's central bank cut its policy rate to an all-time low this year. This tends to weaken the currency by eroding the appeal of the carry trade, whereby investors borrow in dollars and buy assets in currencies that offer higher yields. But rate cuts are exactly what you would expect from a central bank faced with weak growth and below-target consumer price rises. There's no reason to think that Brazil's central bank was doing anything other than sticking to its inflation-targeting mandate in the normal way.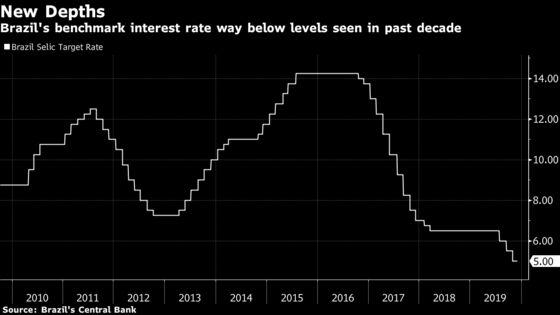 The deficit in Brazil's current account, the broadest measure of trade in goods and services, ballooned this year to the widest since the end of 2015. Exports have fallen, so the idea that a weaker real is allowing Brazil to flood the U.S. with cheap goods is hard to sustain.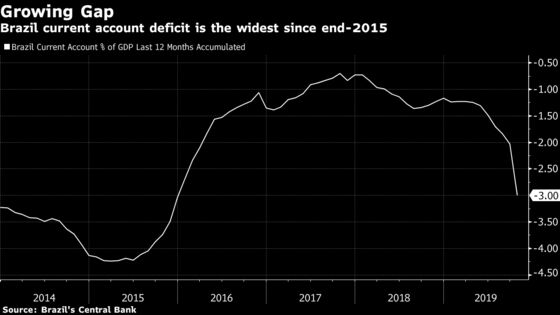 Argentina Capital Controls
Policy makers in Argentina have acted even more vigorously to defend the peso, which has tanked as President Mauricio Macri, an investor favorite, prepares to leave office. In early September, Macri imposed capital controls that included restrictions on some companies' access to foreign exchange markets and also their ability to make transfers abroad. In October, his administration slapped restrictions on dollar purchases by savers. All of these measures represent efforts to support rather than weaken the currency.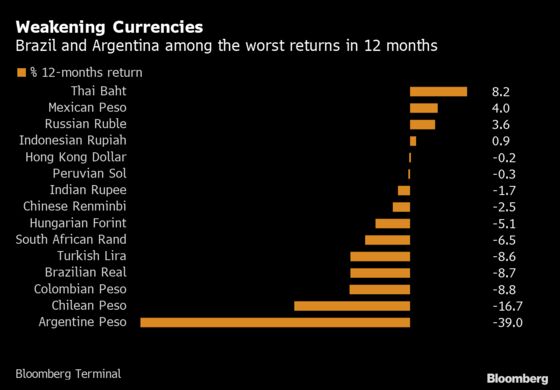 The majority of emerging market currencies worldwide have fallen against the dollar this year, with the Chilean peso and Turkish lira joining the real and the peso among the top losers. Greenback strength has been reinvigorated in recent weeks as the U.S.-China trade spat reduces investor appetite for riskier assets. "The weakening of these currencies is, in large part, Trump's fault due to the trade war," said Necton's Perfeito. "And this attack could cause them to weaken even more," he said in reference to Trump's decision on steel and aluminum tariffs.