DETER or `Bill From Hell'? Traders Unpick Russian Sanctions Web
(Bloomberg) -- The tangle of new U.S. sanctions -- actual and proposed -- have battered the ruble and Russia bonds this month and with more in the works, investors are having trouble keeping up.
"I read about Russia a lot and even I'm struggling to stay on top of what sanctions are in place or in train and in retaliation for what," Julian Rimmer, a London-based trader at Investec Bank Plc, wrote in a note to clients on Tuesday.
The ruble slumped several days after one of the harshest bills was published as investors belatedly digested the details. Bonds of Russia's state development bank also sank this week, with many attributing the move to selling ahead of potential sanctions.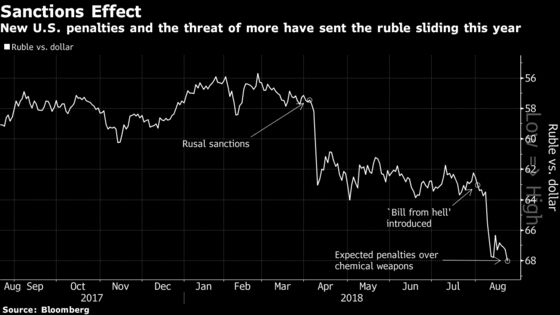 In addition to moves by the administration of Donald Trump, no fewer than eight sanctions bills are listed on the Congress website. There's no word yet on whether or when any of the Senate proposals might move toward passage, but political pressure is rising.
While sanctions are a priority, the odds of taking up such legislation in September are "slim" because of a packed calendar, Senate Majority Leader Mitch McConnell told reporters Tuesday. Other top senators have said some kind of bill could be passed later in the fall.
Here's a primer on the most important details of the evolving sanctions from the administration, as well as the two main bills now under consideration in Congress.
North Korea-related sanctions: imposed on several Russian shipping and other companies alleged to be involved in trade with North Korea

Economic impact: limited to companies involved

Chemical weapons/U.K. poisoning sanctions: to be imposed in two phases, with the first expected to start as early as this week, over the alleged nerve-agent poisoning of a Russian former spy and his daughter in the U.K. in March

Economic impact: first wave limited to restrictions on military-related technologies; second wave (may come in 90 days) could include sweeping bans on trade with Russia, cuts in diplomatic ties and flights run by state carriers such as Aeroflot, though Trump could waive some
S.2313 (DETER Act) was submitted in January by Senators Chris Van Hollen and Marco Rubio, but got 12 new co-sponsors in July

Key provisions: restrictions on transactions with top state banks, including ban on correspondent accounts, asset bans on big energy like Gazprom and Rosneft, as well as military companies, ban on transactions in new sovereign and state-company debt
Conditionality: sanctions would take effect only if U.S. intelligence agencies find that Russia has interfered in future U.S. elections
Outlook for passage: Signs have emerged in recent weeks that Senators could seek to soften the most dramatic proposals in an effort to limit damage. Senate Foreign Relations Chairman Bob Corker of Tennessee joked to reporters last week that the original bill risked doing more damage to Russia than a "tactical nuclear weapon" and said he expected changes to ensure a strong bill emerges.

S.3336 was dubbed by one of its authors as the "bill from Hell" and shook Russian markets when it was submitted to Congress earlier this month by a bipartisan group of six legislators led by Senators Lindsey Graham and Bob Menendez.

Key provisions: ban on transactions with new sovereign debt, blocks on transactions in all U.S. property of major state-owned Russian banks, sanctions against politicians and oligarchs who "facilitate illicit and corrupt activities" on behalf of Russian President Vladimir Putin, restrictions on investments in major energy projects outside Russia supported or controlled by the government or state-owned enterprises
Conditionality: limits would take effect upon passage into law
Outlook for passage: plan has bipartisan support but no hearings yet scheduled