Here's What Analysts Are Saying About RBI Stimulus Measures
Indian stocks pared gains after the Reserve Bank of India's move to cut key lending rate by 75 basis points and roll out measures to encourage lending during a nationwide lockdown.
The stimulus was largely "priced in" by equity investors, market participants said. S&P BSE Sensex Index declined as much as 2% during Governor Shaktikanta Das's briefing. The measure was down 0.4% as of 12:37 p.m. in Mumbai.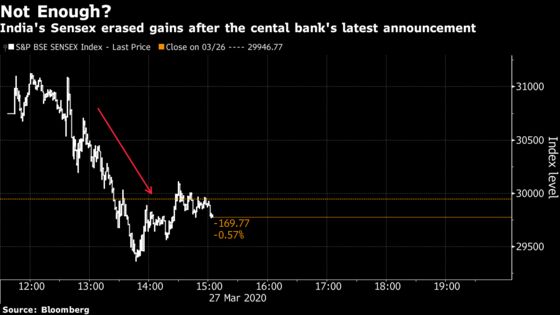 As part of the measures, all financial institutions across the economy are allowed to suspend term-loan repayments for three months and the RBI will conduct targeted long-term repo operations for bonds maturing within three years.
Here's what analysts say regarding the RBI's moves:
"The moves made by the RBI and government were priced in as such moves have happened globally due to the coronavirus," said Sameer Kalra, founder of Target Investing.
"I hope the next fiscal stimulus is bigger than the last one announced. There is no other choice for the government," he said.
"The steps are necessary but not sufficient," said Ajay Bodke, chief portfolio manager of Prabhudas Lilladher Portfolio Management Service in Mumbai, adding that interest payments, for example, have been deferred rather than waived.
"Government and RBI still need to come out with a comprehensive bailout package. That is the only thing that will stop the distress in the economy," he added.
While saying the RBI's announcements were "welcome and necessary," Mihir Vora, chief investment officer at Max Life Insurance Co Ltd. said "given the gravity of the situation, further actions by RBI and the government are likely in the coming weeks."
"The steps taken by RBI and the welfare and stimulus announced yesterday by the government are in sync with rest of the world," he added.
Deven Choksey, who oversees investment and research as managing director at KR Choksey Securities Pvt., said the central bank's latest decisions were in line with expectations.
"The problem now is that participation is muted in the markets, so the market will find it difficult sustain any rallies in the short term. Foreign institutional investor participation is also low," he said.
The drop in Indian stocks was due to "normal" profit-taking because only receding virus cases or a cure for it "can propel the market for sustainable and meaningful upsides," said Dharmesh Kant, head of research at Indianivesh Securities Ltd.
"Things have been taken care off monetarily for foreseeable three months... expecting life will be normal by then," he added.
Comprehensive Announcement
"The measures have addressed all the fundamental issues in a comprehensive manner," said Joseph Thomas, head of research at Emkay Wealth Management. "This is a direct and targeted approach to the fluid situation in the face of an uncertain inflation and growth trajectory."