Here's One French CFO Who's Not Fretting About Yellow Vests
(Bloomberg) -- Catana Group's catamaran-making business is going well enough that not even Yellow Vest protesters in France can threaten it, according to the company's finance chief.
The maker of Bali catamarans, whose 4.0 model sells on average for 350,000 euros ($398,000), is displaying one of its vessels at the Paris boat show that kicks off Saturday, the same day French authorities are bracing for a new demonstration in the French capital. Even if the event were to be disrupted, Catana's order book is already full and other yacht shows, notably the Dusseldorf event in January, have become more important than the Paris one, said Catana Chief Financial Officer David Etien.
"All lights are green," Etien, 46, said in a phone interview. "The market for catamaran sailboats continues to be very, very dynamic, with demand higher than production capacity." A drop in visitors to the Paris show won't mean a drop in business for Catana, he said.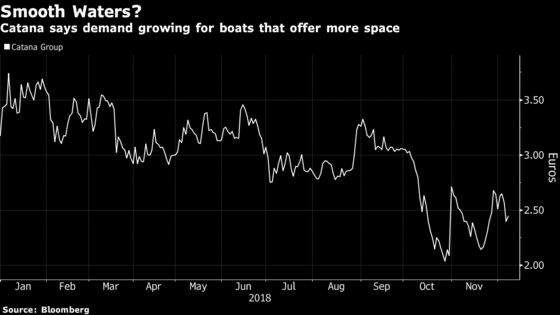 Catana surprised markets in October by saying demand was so strong during the initial yacht shows of the season, including the one in Annapolis, Maryland, that it expected record revenue of more than 65 million euros this fiscal year, which ends in August. The CFO reaffirmed the guidance during the interview. Catana, based in Canet-en-Roussilon, in southern France, is scheduled to report last year's results on Monday.
Catana emerged in 2014 from the restructuring of Poncin Yachts, after the group was forced to slim down following the 2008 financial crisis that hit most boat makers as credit dried up. The focus on catamarans has paid off, and Catana shares have more than quadrupled since the end of 2014. The shares have cooled off this year, falling 23 percent to give the company a market value of 74.8 million euros.
Etien sees no slowdown in demand for multi-hull boats, as clients increasingly are looking for more comfortable vessels.
"Even in the worst-case scenario, even if things go very badly this weekend, even if the Paris boat show were to be canceled altogether, this would change nothing in our business model," the CFO said.
Other highlights from the interview:
The largest slice of Catana's business is made up of sales to companies that rent boats, which have a preference for bigger vessels; this reduces Catana's reliance on economic cycles
Company is focusing on the development of additional Bali models: "We still have two or three boats we need to develop to have all sizes in the Bali line"
Catana is still hiring as it expands production but it's also keeping an eye on costs to make sure it doesn't overstretch: "We expect things to go well for another two or three years, but the market can't climb up to the sky: we want to be ready for the next crisis"