Her Spy Work in $6 Billion Case Against UBS Brings $3,400
(Bloomberg) -- A former employee at UBS Group AG's French unit whose spying helped build a $6 billion tax case against the bank found the value of her work after she lost her job: 3,000 euros ($3,400).
The relatively paltry sum is all Stephanie Gibaud -- who organized events for wealthy UBS France clients before she was fired in 2012 -- got from a lawsuit she filed last year against the government to obtain 3.5 million euros. The court made its decision Thursday.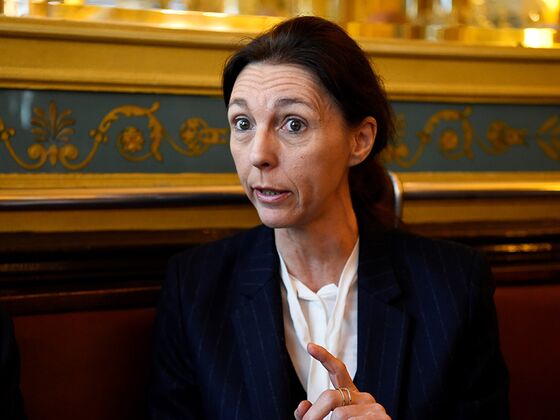 The Paris administrative court acknowledged her contribution and recognized the "stress" she suffered for it. Gibaud, 53, was also given an official status as "an occasional assistant to the public service" seven years after she aided investigators during a surveillance mission of UBS bankers and clients at an event organized around the 2011 Roland-Garros tennis tournament.
Still, the judges found that Gibaud failed to demonstrate that her dismissal and subsequent loss in revenue are linked to her work between 2011 and 2012. Instead, the court underlined that UBS had begun a disciplinary procedure that resulted in her dismissal already in 2009.
Gibaud says her help was instrumental to a blockbuster trial that ended Thursday at a court 45-minutes away on the other side of Paris. Lawyers for UBS, which could be forced to pay as much as 5.3 billion euros in fines and damages, argued this week that there's no proof that it illegally poached new clients in France or helped customers hide assets in undeclared accounts in Switzerland. The ruling in the criminal trial is expected Feb. 20.
UBS said that Gibaud's "lack of credibility was covered in great detail" during the Paris criminal trial. "A lot of her allegations were made without factual basis and used out of context," UBS said in a statement.
Last month, Antoine Reillac, Gibaud's attorney, argued at a hearing that the Frenchwoman started her public service mission in 2008 when she refused to destroy documents she says UBS had asked her to get rid of. Those arguments fell on deaf ears, but the court awarded Gibaud an extra 1,500 euros to cover her legal fees.
Reillac said Thursday's ruling is a "breakthrough." He underlined the significance of the status Gibaud earned, which provides "hope" for improved protection and compensation for future whistle-blowers.
"It's the first time that judges have applied this status -- occasional assistant to the public service -- to a whistle-blower," the lawyer said.