Heineken Falls as Brazil Challenge to AB InBev Hits Margin
(Bloomberg) -- Heineken NV's attempt to challenge Anheuser-Busch InBev NV in Brazil is squeezing profit margins, with the Dutch brewer forecasting a decline in profitability this year.
Shares of the world's second-largest brewer on Monday fell the most in almost three years after it said it was expanding more quickly than expected in Latin America's biggest economy, where its beer business is less profitable than elsewhere.
Heineken became Brazil's second-biggest brewer last year when it bought Kirin Holdings Co.'s business there for about 2.2 billion real ($590 million). The Japanese company had stumbled amid competition with industry giant AB InBev, and now Heineken is stepping up the fight with increased marketing, causing a decline in its overall profitability even as it sells more beer.
"We weren't expecting these products to accelerate so fast in the first year," Chief Financial Officer Laurence Debroux said in a phone interview.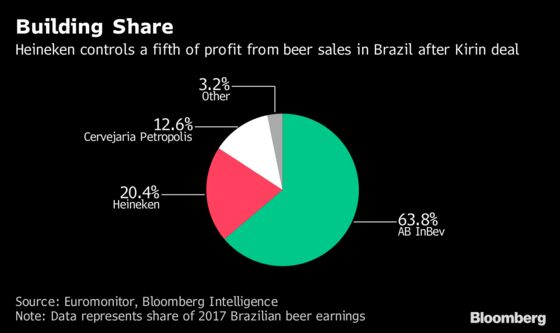 The company's roster of brands in Brazil now includes Schincariol in the mass-market segment as well as more expensive Devassa and Eisenbahn lagers. Kirin's Brazil unit wasn't profitable at the time of acquisition, though it is now and margins should catch up to Heineken's average level in three to five years, Debroux said.
Heineken had double-digit volume growth in Brazil in the first half, while AB InBev reported 9.4 percent revenue growth in Brazil in the second quarter. By contrast, the Dutch brewer's volume slipped 0.1 percent in Europe, its largest market, in the first six months of the year.
Read more: Analysis of Heineken's volume growth strategy
The full-year margin will shrink about 20 basis points, Heineken said, also pointing to currency headwinds. Adjusted operating profit rose 1.3 percent to 1.75 billion euros ($2 billion) in the first half, missing analysts' estimates.
"This should lead to low- to mid-single-digit downgrade, on a stock which had performed well," Morgan Stanley analysts led by Olivier Nicolai wrote in a note to investors.
Heineken fell as much as 6.1 percent in Amsterdam.
The Dutch brewer in February had forecast its margin to improve by 25 basis points this year, lower than its target for past years. Higher raw material costs and a currency headwind are also reasons the brewer gave for cutting its forecast Monday.
AB InBev reported earnings below estimates last week as marketing spending on the soccer World Cup hurt second-quarter profit growth.
Heineken's beer volume rose 4.5 percent on an organic basis, compared with the estimate of 3.1 percent.