Heidelberg Beats Merkel With First German Fossil-Free City Plan
(Bloomberg) -- Angela Merkel won't put a sell-by date on combustion-engine cars in the homeland of VW, Mercedes-Benz and BMW. Heidelberg, a mid-size medieval city in Germany's southwest, is moving ahead anyway, with far-reaching plans to clean up its air.
The university and industrial town of some 150,000 inhabitants will buy only exhaust-free municipal buses starting in 2025 and will ensure that a major part of its urban area is zero-emissions by 2030, Mayor Eckart Wuerzner said Tuesday in a statement. Heidelberg joined a list of 14 bigger municipalities like London, Mexico City and Los Angeles to sign the C40 Green and Healthy Streets declaration for fossil-fuel-free streets.
Wuerzner's commitment "illustrates the determination of mayors around the world to take bold climate action," said Mark Watts, C40's executive director.
Germany, a global powerhouse of carmaking as the base of BMW AG, Volkswagen AG and Mercedes parent Daimler AG, lags behind other countries in setting a date to end the use of automotive combustion engines. The U.K. last year followed France in declaring a ban on sales of new gasoline and diesel cars by 2040.Merkel, sometimes dubbed the "car chancellor" by Germany's media for her perceived accommodating stance on auto manufacturers, hasn't committed to such a deadline.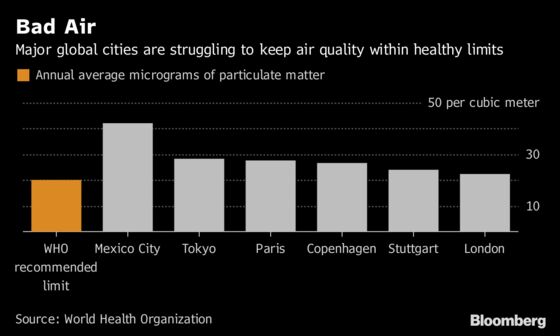 Heidelberg's pledge is the most aggressive in Germany so far as cities rather than national or international bodies take the lead in cleaning up their air. Hamburg has banned older diesel cars from some of its busier streets while Stuttgart, home to both Mercedes and Porsche, makes public transport free on days when airborne particulate-matter levels are high. Their plans could be just as effective in pressuring carmakers into building cleaner vehicles as customers avoid buying models subject to restrictions.
London Mayor Sadiq Khan, declaring the U.K. capital's air "lethal," has been pushing since last year to set up an ultra-low-emissions zone in the city center, effectively forcing drivers to abandon gas guzzlers.
There's also mounting pressure from the European Union, which last week sued Germany, the U.K., France and Italy over failure to meet targets on nitrogen oxides and particulate matter in the air. Last year, more than 65 German cities exceeded permitted levels of NOx, which cause respiratory problems and premature deaths. The main source of the gases is diesel vehicles.
Michael Bloomberg, founder and majority owner of Bloomberg LP, parent of Bloomberg News, is the United Nations Secretary General's Special Envoy for Cities and Climate Change. He's also president of the board of C40 Cities, a group of municipalities that will work with the International Council on Clean Transportation and Emissions Analytics to measure vehicle emissions with remote sensors and portable emissions monitoring equipment. His Bloomberg Philanthropies is one of the funders of C40.