Hedge Funds That Bailed on Momentum Stocks Are Regretting It Now
(Bloomberg) -- Hedge funds that sold momentum stocks in droves at the end of 2019 are wishing they hadn't as the investment factor again rallies.
An appetite for risk similar to one that prevailed in early 2019 is back. Expensive software stocks are surging, and the so-called Faang cohort of high-flying megacaps have continued to outperform. Apple Inc. has added 5.5% after last year's 86% gain.
Professional speculators are roughly the least exposed to the momentum factor as they've ever been, going by one measure. That was a good thing as 2019 ended, when value shares were rallying and expectations for an economic rebound took hold. But it's proving painful now, with momentum and growth stocks reclaiming leadership.
"The value spurt that powered the market surge toward the end of 2019 has rapidly reversed," wrote Bloomberg Intelligence strategists including Gina Martin Adams. While momentum is "regaining the factor crown," value seems to be returning to its "former self," they wrote, giving 2020 a "back-to-the-future feel."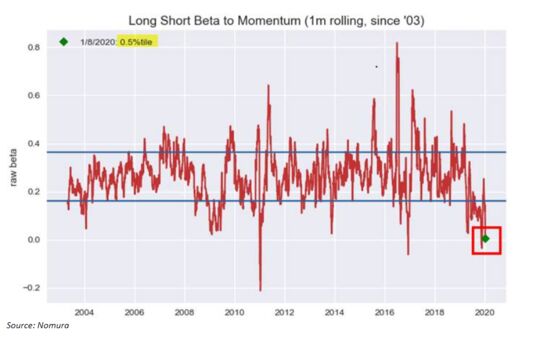 Sure, the year is young and things could change. But for fund managers analyzing different stock-market characteristics like value and momentum to try to gain an edge, getting exposures right is crucial. Versus the S&P 500, hedge funds just had one of their worst years on record. And investor patience for paying high fees for lackluster returns is growing thin.
According to Charlie McElligott, a cross-asset strategist at Nomura Securities, hedge funds "purged" themselves of momentum stocks in the fourth quarter, scrambling for cyclical and value companies that are seen as winners in an environment of improving economic growth. That left a measure of their sensitivity to price swings in momentum shares, known as beta, at just the 0.5th percentile in data going back to 2003.
Ten days into 2020, growth and momentum factors have outperformed 15 other factors in a Bloomberg library. A portfolio that goes long the highest momentum shares and shorts the laggards is up 1.8%, Bloomberg data show. Meanwhile, an equivalent that focuses on value, or cheap stocks, is down 2.8%.
According to Bloomberg Intelligence, Bloomberg's value portfolio has given up more than half of its late year rally. At the same time, momentum is making a comeback.
"A migration back to secular-growth winners could be behind the trade into momentum," Bloomberg Intelligence strategists wrote. "Growth factors, particularly sales, have also strongly outperformed others this year, as did technology and communications among large-cap sectors."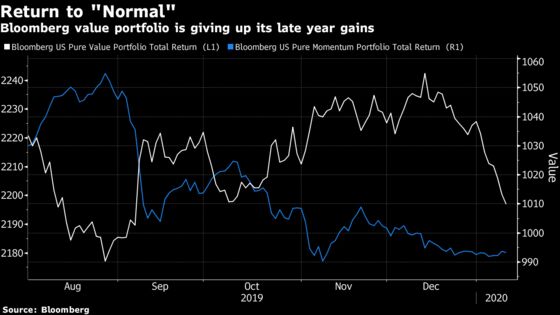 "Markets are signaling that 2020 will be clearer sailing for this group than previously thought," Nick Colas, co-founder of DataTrek Research, wrote to clients referring to big tech. "Early days, but 2020 is starting off looking a lot like 2019."