Hedge Funds Play It Safe Ahead of Make-or-Break Week for Oil
(Bloomberg) -- Investors played it safe on U.S. crude ahead of a make-or-break week for oil markets.
Money managers cut total positions on West Texas Intermediate crude to the lowest level in five years, according to U.S. data released Friday. They shed bearish bets faster than bullish ones, leaving the net-long position higher for the first time in 12 weeks.
Oil spiraled to its worst monthly loss in a decade in November, beset by worries about a looming global supply glut. But Russia and Saudi Arabia have agreed to extend their cooperation on oil markets into 2019, with OPEC+ set to hold talks this week on a potential production cut. Investors don't want to risk getting caught on the wrong side of a rebound, said Chris Kettenmann, chief energy strategist at Macro Risk Advisors LLC.
"A lot of people who caught some of the downdraft in prices in October and November have moved to the sidelines and were looking to take some profits off the table," Kettenmann said in a phone interview.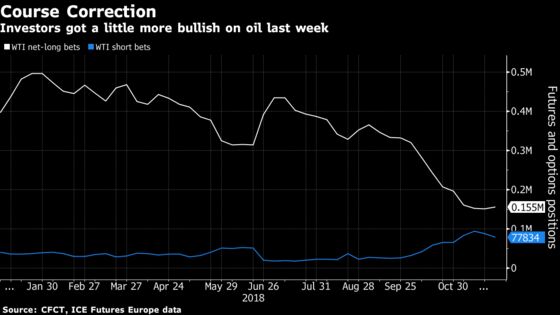 Russian President Vladimir Putin announced the extension to the OPEC+ deal after a meeting Saturday on the sidelines of the Group of 20 summit with Saudi Arabian Crown Prince Mohammed bin Salman. That's a prelude to a Dec. 6 OPEC meeting in Vienna where the cartel and its allies will consider a cut of 1 million barrels a day or more. An OPEC advisory committee recommended a 1.3 million-barrel cut, according to a delegate.
"There is no final decision on volumes, but together with Saudi Arabia we will do it," Putin told reporters about extending the agreement in Buenos Aires. "And whatever number there will be based on this joint decision, we agreed that we will monitor the market situation and react to it quickly."
Because the bets on falling prices shrank faster, net-long positions on WTI -- the difference between bullish and bearish wagers -- edged up 2.6 percent to 155,023 options and futures contracts as of Nov. 27, the U.S. Commodity Futures Trading Commission reported.
WTI, which settled at $50.93 a barrel Nov. 30, jumped 5.4 percent as of 10:30 p.m. Sunday New York time.
Bulls may get a further boost after Alberta's provincial government announced Sunday a production cut of 325,000 barrels a day, in an effort to ease a regional glut. Canada is the largest foreign supplier to the U.S.
Sentiment on Brent crude was more negative. Net-long positions on the international benchmark slid for the ninth straight week to the least bullish point in about three years, according to ICE Futures Europe data. Bets on falling prices, meanwhile, were the highest since August 2017.
Investors have been losing faith in international producers' ability to agree on a cut, said Michael Lynch, president of Strategic Energy & Economic Research in Winchester, Massachusetts. There may be an inkling of more optimism for U.S. prices, he said.
"The economy is still looking strong," Lynch said. "And the Americans may just be expecting that lower prices will have an effect sooner rather than later and force production cuts in the U.S."
OTHER POSITIONS:


Money managers cut net-long positions on diesel by 41 percent to 14,740, the CFTC said, hitting the lowest level in 16 months.
Net-longs on benchmark U.S. gasoline inched up 1 percent, while short positions declined by 9 percent.