Hedge Funds Pile Into Gasoline's Run From Worst to First
(Bloomberg) -- Gasoline's run from worst to first has attracted the interest of speculators.
Prices for the motor fuel have boomed 52 percent this year, making it the best-performer for 2019 in the Bloomberg Commodity Index. That's a sharp turnaround from the second half of last year, when it was the laggard.
Unexpected fires and other breakdowns at refineries from New Jersey to California reduced production of the motor fuel just as the weather gets warmer and distributors are stocking ahead of peak summer driving season. On top of that, some companies moved up maintenance to this spring from later in the year to prepare for a major change in shipping fuel rules in 2020, further reducing output.
"The financial players got long gasoline as they looked around and saw a number of unscheduled refinery outages in addition to the planned maintenance," said Andy Lipow, president of Lipow Oil Associates LLC in Houston. There have been "a significant number of unscheduled outages causing a drain on inventories and higher prices."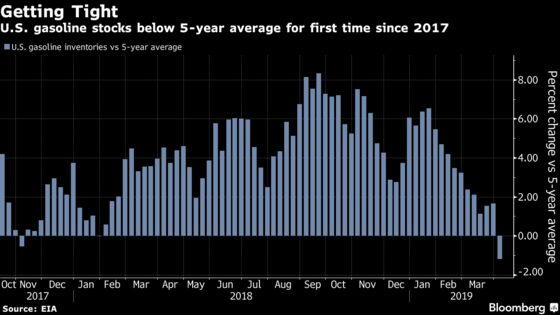 Gasoline has far outpaced diesel in terms of investor interest. While net-longs in the auto fuel -- the difference bets on rising and falling prices -- have more than doubled since late January, sentiment on diesel has remained evenly split. One reason cited by some analysts is that the effect on diesel prices of the ship-fuel rule -- known as IMO 2020 -- has been overstated.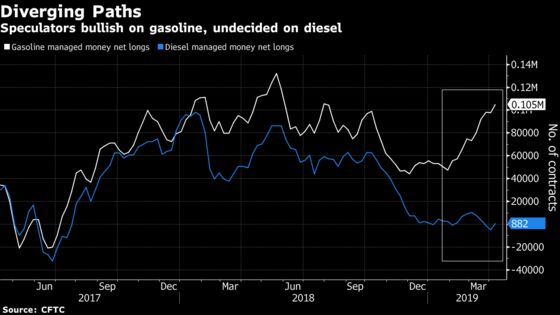 IMO 2020, which comes into effect in January, will force large vessels such as oil tankers or container ships to burn fuel that contains 86 percent less sulfur. That could mean a massive increase in demand for diesel fuel, which is far cleaner than high-sulfur fuel oil. But marine haulers could also install scrubbers on their vessels, lessening the need for cleaner diesel.
Speculators may not be sold on diesel prices "if everyone is already overproducing to meet the deadline," said Chris Kettenmann, chief energy strategist at Macro Risk Advisors LLC.