Hedge Funds Hit the Sky Jackpot as Comcast Lands Knockout Bid
(Bloomberg) -- Comcast Corp.'s knockout bid for British pay-TV company Sky Plc delivered a jackpot to hedge funds including Baupost Group, Elliott Capital Advisors LP and D. E. Shaw & Co. that had placed big bets on the broadcaster.
The offer netted Sky's top 10 independent shareholders a collective 730 million pounds ($959 million) over the weekend, according to data compiled by Bloomberg. Seth Klarman's Baupost, which a year ago disclosed that it held more than 1 percent in Sky, has made a 95 percent internal rate of return by doubling down on its investment, according to analysis by Bloomberg.
The auction win is the latest boon for investors who've backed Sky through a topsy-turvy takeover saga that became a full-blown bidding war between Comcast and Rupert Murdoch's 21st Century Fox Inc. Sky's shares have gained 78 percent since Fox first launched a takeover bid in December 2016.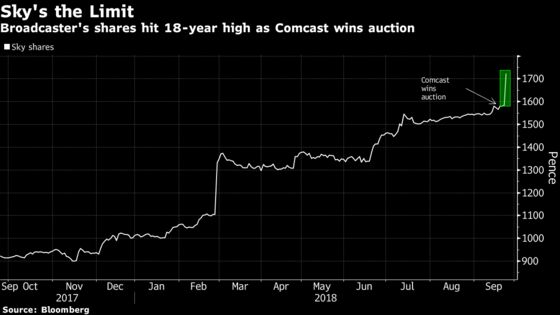 "It's been above anyone's expectations," said Tyler Tebbs, executive director at Olivetree Financial Ltd., an event-driven broker, in London. "To see it go out at this price, it's been a great success."
Read more: Here's What the Street Is Saying After Comcast Wins Sky Auction
Comcast won Sky with a bid of 17.28 pounds a share, 9 percent above Sky's closing price on Friday. The deal came as a boost for event-driven hedge funds that wager on the success or failure of corporate transactions. Sky is among the three biggest bets by such hedge funds, according to Philippe Ferreira, a Paris-based senior cross-asset strategist at Lyxor Asset Management.
Representatives of Baupost, Elliott, HBK Investments and D.E. Shaw declined to comment.
Klarman's hedge fund acquired a large chunk of Sky shares in the second half of 2017, when prices averaged about 9.5 pounds. Baupost owned 4.75 percent of Sky as of its latest regulatory filing, a stake currently worth about 1.4 billion pounds. Paul Singer's Elliott owned 4.3 percent as of last week. D.E. Shaw, which had about 1.3 percent, is partly owned by Alphabet Inc. Director Eric Schmidt.
Other winners include institutional investors like UBS Group AG, BlackRock Inc. and BNP Paribas SA, which held Sky shares before Fox's initial approach and stuck with the investment. Hedge funds including HBK Investments and Pentwater Capital Management bought in after Fox's original 10.75 pounds-per-share offer. Pentwater declined to comment.