Hedge Funds Fled Electronic Arts Ahead of Rivals' Game Launches
(Bloomberg) -- Hedge funds ditched Electronic Arts Inc. in the third quarter as the launch of its Battlefield V video game was delayed until after new releases from some of its key rivals.
At least nine funds exited their stakes in Electronic Arts in the period ended Sept. 30, more than any other tech stock that wasn't an acquisition target, according to data compiled by Bloomberg. At least seven hedge funds trimmed their positions in EA, which also topped the list of tech stocks excluding deal scenarios.
Money managers may have instead piled into shares of other video-game stocks. Take-Two Interactive Software Inc. attracted new investments from at least four hedge funds in the quarter, tied for the lead among tech stocks not involved in deals. Meanwhile, at least eight funds added to their positions in Activision Blizzard Inc., trailing only Microsoft Corp. among tech names. Both Activision and Take-Two debuted new games in the past month, while EA's Battlefield V standard edition won't be released until Nov. 20.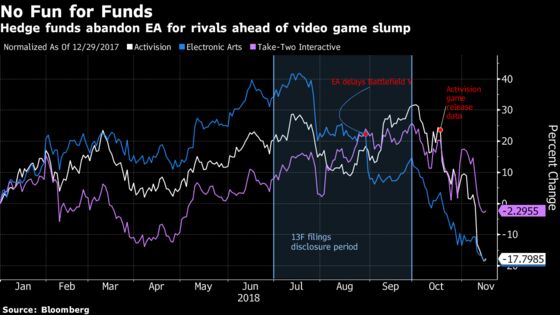 To be sure, it hasn't been a pleasant run for investors since the end of the third quarter. A disappointing debut of Activision's Call of Duty: Black Ops 4, weak forecasts and a broader meltdown in the tech sector have led to double-digit declines in all three video-game stocks. EA has fallen 29 percent since Sept. 28, while Take-Two is down 23 percent and Activision has dropped 38 percent through Wednesday's close.