Hedge Fund Leading Inflows in Brazil Adds New Product, Traders
(Bloomberg) -- Brazil's Genoa Capital, a hedge fund firm that debuted last year and has led inflows in the nation since, added more equity analysts and will launch a new equity-focused fund.
The firm, founded by a group of veteran traders from Itau Unibanco's asset management unit, has expanded its team to 44 employees from 36 when it debuted, co-founder Andre Raduan said in an interview. The new employees, mostly equity analysts and traders, will help with Genoa's new product, a long-biased hedge fund focused on Brazilian equities.
"We didn't want to grow our flagship fund much further, but saw an opportunity to expand laterally, with other products that took advantage of pockets of liquidity," Raduan said.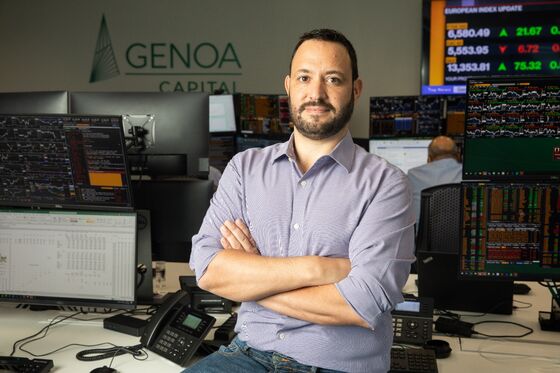 The firm's flagship hedge fund, Genoa Capital Radar Master FIM, amassed about 7 billion reais ($1.3 billion) in the span of about 60 days and is the fund with the most inflows over the past 12 months, beating 180 peers, data compiled by Bloomberg show. Since inception, it returned 5.9%, compared to 1.7% of its benchmark.
The new long-biased fund could reach as much as 2 billion reais in assets, said Wlad Ribeiro, another founding partner who co-manages the equities team with Lucas Cachapuz. To beef up the equity team prior to launching the product, Ribeiro hired four analysts and an equities trader.
Four of its founding partners, including Raduan, left Itau's asset-management division last year to create the firm. They are part of a large contingent of traders leaving bigger firms to create their own asset management shops, lured by record inflows to the local hedge fund industry. Last year, Brazilian hedge funds got 104 billion reais in net new money, data from the capital markets association shows.