ThyssenKrupp's Uninvited Guest Wants to Scratch a 7-Year Itch
(Bloomberg Opinion) -- How long should it take to turn around a troubled European steel and technology conglomerate? Elliott Management Corp provided a kind of answer to that question on Tuesday: not seven years.
Elliott has been building a stake in ThyssenKrupp AG and wants to oust its boss, Heinrich Hiesinger, Bloomberg News reported on Tuesday. Gulp.
I have some sympathy for Hiesinger, who took over in 2011 at a time when the company risked total collapse after a spectacular mis-investment in Brazil and about 9 billion euros ($10.6 billion) of write-downs. He's done much to reform the "old-boys" culture that led to those problems. And he's succeeded in cutting costs, exiting underperforming businesses, and reducing both net debt and the dependency on the volatile steel market. 
While the stock is worth less now than when he took over (and yields less than 1 percent), that's partly because the full extent of ThyssenKrupp's problems only became apparent after he arrived. Still, his improvements have happened at a snail's pace and there's rarely a time when ThyssenKrupp isn't restructuring some part of the business. 
Talks with India's Tata Steel Ltd. about a European joint venture and a possible listing of combined assets have been going on for two years. Similarly, the sale of ThyssenKrupp's troubled Brazil plant didn't happen until last year. Hiesinger's decision to raise 1.4 billion euros of capital last year compounded the frustration. 
That ThyssenKrupp's shares rose as much as 9 percent after the Elliott bombshell suggests investors agree he could do more. 
The question, as ever with activist hedge funds, is more for whom? As I've written before, the high-margin elevator business — which contributes more than half of operating profit — would probably be worth more if listed separately. A sale of the material services division might make sense too in view of the company's reorientation away from steel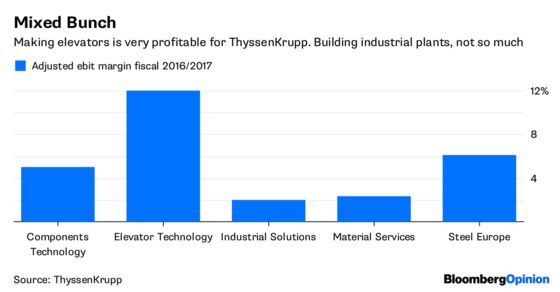 And, arguably, the company should have done more to tackle problems at its industrial solutions business (it builds industrial plants), which has delivered pretty disappointing returns lately. Siemens AG, Hiesinger's former German employer, has acted more decisively to overhaul its conglomerate structure and keep activists at bay, albeit with mixed results.
But, of course, this is Germany, and Hiesinger has to consider much more than whether spinoffs or sales would provide a short-term share price fillip. For starters, there's the 160,000 workers, many of them unionized and with a strong voice on the supervisory board. German politicians are apt to wade in if jobs are threatened. Plus there's more than 8 billion euros of pension obligations.
Hiesinger has promised to review the company's remaining activities once the Tata venture is concluded this year. But with Paul Singer's hedge fund now joining activist Cevian Capital, ThyssenKrupp's second largest investor, in calling for change, it might be wise to accelerate.
Hiesinger deserves a modicum of patience; he could have taken any number of less onerous jobs by now. But ordinary shareholders could be forgiven for wanting to scratch that seven-year itch.