Heathrow Runway in Doubt as Government Won't Appeal Legal Ruling
(Bloomberg) -- London Heathrow's expansion plans face further delays after environmental activists won an appeal over a third runway that Europe's busiest airport says it needs to boost flights and compete with rival hubs.
Appeal court judges overturned a decision from May in favor of the project on Thursday, saying the U.K. government failed to take full account of international agreements on climate change when it backed the proposal.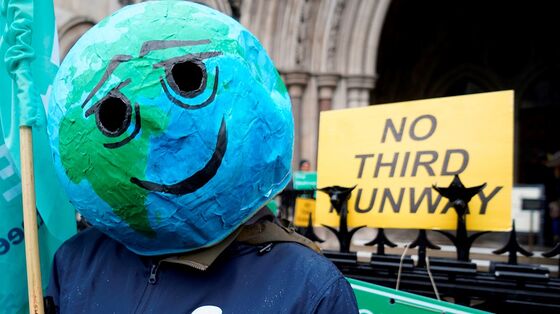 The ruling casts new doubt on a $20 billion project delayed for decades amid concerns about aircraft noise, increased pollution, the demolition of homes and the impact on crowded roads. Prime Minister Boris Johnson opposed the runway plan when he was London mayor, and the government said that it won't appeal the court's ruling. It's also undecided on whether to revisit a strategic plan identified by the court as lacking in proposals for cutting carbon emissions.
"We have always been clear that Heathrow expansion is a private sector project which must meet strict criteria on air quality, noise and climate change," Transport Secretary Grant Shapps said in a statement. "The court's judgment is complex and requires careful consideration."
Heathrow said it will seek to appeal to the Supreme Court and that any issues are "eminently fixable." Since the original hearing the U.K. aviation industry has produced detailed plans for reaching net-zero carbon emissions by 2050, while the airport itself published proposals this week, a spokesman said.
Shares of British Airways parent IAG SA, which were already falling because of the impact of the coronavirus outbreak, closed 7.9% lower. Heathrow's biggest investor, Spanish infrastructure specialist Ferrovial SA, fell 3.8%.
"Today's landmark Heathrow judgment is a victory for Londoners," Sadiq Khan, the city's current mayor, said in a statement. "We face a climate emergency and I'm delighted that the Court of Appeal has recognized that the government cannot ignore its climate change responsibilities."
Shapps said the government continues to regard airports as national assets and views their expansion as key to boosting global connectivity. He failed to endorse the Heathrow plan, however, saying infrastructure projects must "drive the whole U.K. economy, level up our regions and unite our country."
Thursday's decision doesn't rule out an eventual expansion, the judges said, but instead forces the government to review its so-called Airports National Policy Statement in light of climate-change legislation. Britain is a participant in the Paris Agreement, where almost 200 nations agreed to work toward dramatic reductions in fossil fuel pollution by the middle of the century.
"The Paris Agreement ought to have been taken into account by the secretary of state in the preparation of the ANPS and an explanation given as to how it was taken into account, but it was not," Judge Keith Lindblom said. "That, in our view, is legally fatal to the ANPS in its present form."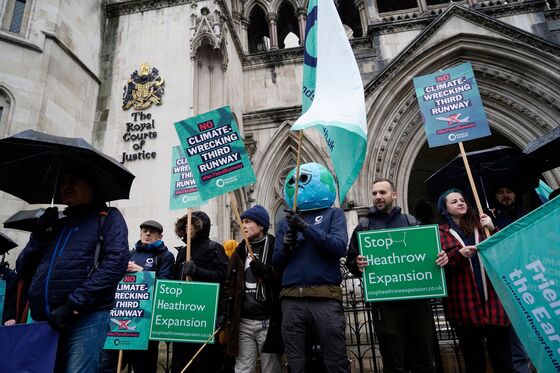 Johnson's stance is likely to be critical. He recently backed the 100 billion-pound ($129 billion) HS2 high-speed rail project, but has continued to push back against Heathrow's plans. Asked on Feb. 11 if the runway would go ahead, he said he saw no immediate prospect of it getting built.
In 2015, Johnson promised to lie down before bulldozers to stop construction of the runway, but he missed the 2018 Parliament vote that sanctioned the expansion as part of the ANPS. Being enshrined in that policy plan was meant to minimize procedural logjams, with planners confined to considering elements of the proposal rather than whether it should be built at all.
The airport operator has spent years trying to win permission for expansion to an annual capacity of 142 million passengers. Last year, it was only able to boost numbers by 1% to about 81 million because of a shortage of slots.
On Wednesday, the airport's chief executive officer, John Holland-Kaye, stepped up his defense of the runway, saying a government decision to block the project would amount to "financial suicide" and hamper U.K. efforts to boost trade after Brexit.
Holland-Kaye said an expanded Heathrow is "essential for a global Britain." Thwarting the plan will only benefit competing economies such as France, he said in an interview.
Campaign groups said the Thursday decision opens the way for challenges to construction and infrastructure projects that haven't had proper environmental impact reviews.
"This judgment has exciting wider implications for keeping climate change at the heart of all planning decisions," said Will Rundle, head of legal at Friends of the Earth. "It's time for developers and public authorities to be held to account when it comes to the climate impact of their damaging developments."