Heat Spikes Are Contributing to a Massive Die-Off of Wild Bumble Bees
(Bloomberg) -- Spikes of extreme heat caused by warming temperatures are a critical factor in the widespread die-off of wild bumble bees, according to a study published today in the journal Science—even beyond the effects of pesticides.
"We are not saying pesticides are not a factor," said Jeremy Kerr, a biologist at the University of Ottawa and the senior researcher on the study. "We are confirming positively that climate change is a factor."
Bumble bees are different from honey bees. The former is a wild species, while the latter is cultivated for agricultural production. Both are imperiled, but in different ways. Some 50 percent of 49 native bumble bee species in the U.S. are declining according to Leif Richardson, an ecologist at the University of Vermont, a bumble bee expert who did not work on this paper. Some species' populations, however, are growing.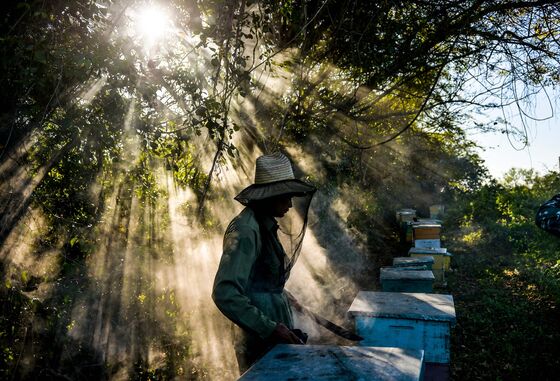 Wild bumble bees have been studied less than farm bees. The fate of honey bees is particularly well monitored by the government since they're credited with fertilizing roughly $15 billion dollars worth of crops yearly in the U.S. alone, according to the Department of Agriculture. Honey bees have been dying off at an alarming rate. Beekeepers across the United States lost 40.7 percent of their honey bee colonies from April 2018 to April 2019, according to latest annual nationwide survey conducted by the University of Maryland-led nonprofit Bee Informed Partnership. Recent research has linked farm bee die-offs to insecticide use.
But for this paper, contributors Peter Soroye, Tim Newbold and Kerr, looked at wild bumble bees, which scientists note also perform critical pollinating functions. To evaluate climate impacts on wild bee sites, they developed records of bee occupancy at 550,000 locations across North America and Western Europe of 66 bumble bee species. They used a baseline period of 1901 to 1974 and compared it to 2000 to 2014.  They found declines of  17 percent in Europe and 46 percent in North America.
Controlling for other factors, they concluded that "climate change has driven stronger and more widespread bumblebee declines than have been reported previously."
Richardson said the paper may actually underestimate the extent of the change. "In the end," he said, "lack of data, particularly in Northern climes, only allowed them to consider a small percentage of land mass."
Kerr said that knowing about bumble bees' sensitivity to heat spikes is helpful prevent their decline. "Just like we would plant a shade tree to help protect humans from heat, we could manage habitat to shield bees from extremes."
The methods developed for this study could also be used to predict how climate change will affect other animals and wildlife more broadly, Soroye said.