Heart-Pump Stock Goes From First to Worst as Growth Cools
(Bloomberg) -- Abiomed Inc., a former darling among stock investors, has wiped out a year and a half of gains.
The company that was the best performing large-cap health-care stock and the second best performer in the S&P 500 Index for 2018 is now the worst performer in both the sector and the broader benchmark this year. Shares in the maker of the world's smallest heart pump plunged as much as 29% on Thursday after sales missed estimates for a second straight quarter, stoking worries about a slowdown in revenue growth.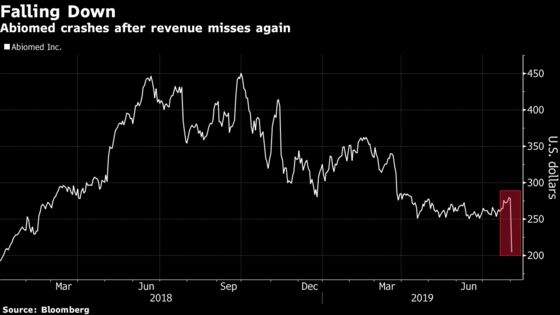 Over a four-year stretch ending with its October 1 intraday peak, the Boston-area company rode a boom of more than 1,700% from small-cap device maker to S&P 500 powerhouse with a $20 billion market value. At its highest level, at least two analysts were projecting the stock could reach $500 or higher. Now, shares are trading around $200 apiece, leading one bullish sell-side analyst to throw in the towel.
"We are surprised," BTIG analyst Sean Lavin wrote in a note to clients. "Frankly, we got our previous upgrade wrong and would rather just admit that than be stubborn and maintain our buy rating."
Lavin cut the stock to neutral from buy -- Abiomed's first hold-equivalent rating since late last year, Bloomberg data show. Investors who might have bought the stock in response to BTIG's Nov. 2 upgrade would have lost around 48% of their investment, while the S&P 500 gained about 9% over that time.
Abiomed's current year-to-date drop of 38% puts it at the bottom of the S&P, below Nordstrom Inc., Gap Inc. and fellow health-care stock AbbVie Inc.
Advanced Micro Devices Inc. was the only stock to have a hotter 2018, when its 80% gain edged Abiomed's 73% climb. AMD remains among the S&P's best this year, up more than 60%.