Healthy Consumers to Help U.S. Economy Endure Ailing Factories
(Bloomberg) -- The contrast between healthy consumers and ailing factories was on full display in the latest round of U.S. economic data, suggesting that the record-long expansion will hold up -- for now -- despite weakness in manufacturing.
The Bloomberg Consumer Comfort Index's gauge of the buying climate rose last week to a record in figures going back to 1985, while more homebuilding permits than analysts projected were issued in September. But manufacturing output fell last month by more than forecast, depressed by the General Motors Co. autoworkers strike, and factory activity in the Philadelphia region was the weakest in four months.
Altogether, the latest numbers are a sign that the economy will skirt a recession at least for now despite pressures from global weakness and trade tensions. The consumer comfort survey suggests purchases will hold up in coming months after data on Wednesday showed retail sales unexpectedly posted the first decline since February.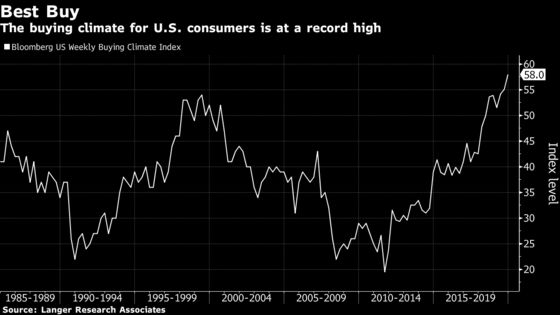 Gregory Daco, chief U.S. economist at Oxford Economics, cautioned that persistent weakness at factories could eventually spill over.
"For the past nine months, we've seen a clear bifurcation between the manufacturing and non-manufacturing sectors," Daco said. "The longer this bifurcation lasts, the bigger the threat becomes to the broader economy."
Traders continued to bet Thursday that Federal Reserve policy makers will lower interest rates later this month for a third straight meeting.
While the factory figures were downbeat for September, there was a bright spot: Output for the quarter rose at a 1.1% annualized pace, marking the first gain after two straight declines that tagged the sector as in recession.
Daco said he's forecasting consumer spending to rise by less than 2% or in the 1.5% range in the fourth quarter. "That's still growth," he said. "That's still expansion in consumer spending, but we are seeing initial signs that consumers are being a bit more cautious with their outlays."