HealthEquity Makes $2 Billion Unsolicited Bid for WageWorks
(Bloomberg) -- HealthEquity Inc. made an unsolicited offer to buy WageWorks Inc. for roughly $2 billion, in a deal that would combine two of the largest U.S. health-savings account operators.
Under the proposed terms of the transaction, HealthEquity would pay $50.50 a share in cash for WageWorks, which closed at $43.06 in trading on Monday. The offer was submitted to WageWorks on April 11, HealthEquity said in statement on Tuesday.
On Monday night, WageWorks disclosed that it had received an unsolicited, nonbinding proposal from HealthEquity and said that its board would carefully review it. WageWorks declined to comment further on Tuesday.
"We look forward to engaging with WageWorks management and board as quickly as possible," HealthEquity Chief Executive Officer Jon Kessler said.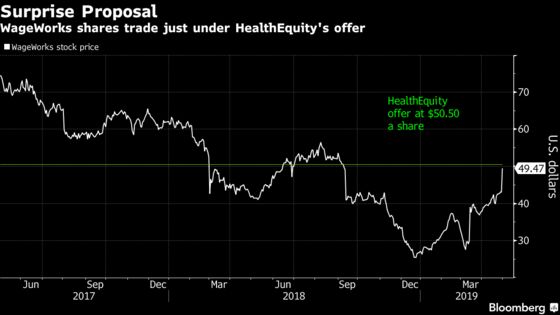 Shares of WageWorks jumped about 13 percent to $48.57 at 10:09 a.m. in New York, a signal that some investors may be skeptical that a deal will be consummated at the proposed price. HealthEquity's shares were down 4.7 percent to $69.53.
HealthEquity's offer may be viewed as a strategy shift by investors and could be a sign that growth will be more difficult to generate than previously thought, SunTrust analyst Sandy Draper wrote in a note to clients. Draper has a buy rating on the stock.
WageWorks is a San Mateo, California-based administrator of health savings accounts, flexible spending and other benefits for employers.