Health Stocks Riding High on Virus Claims Draw Short Sellers
(Bloomberg) -- Short sellers are pouncing to bet against small-cap drugmakers and life sciences technology firms that have boosted their share prices by claiming to target the novel coronavirus.
The rallies for companies like NanoViricides Inc, Novavax Inc. and Inovio Pharmaceuticals Inc. after they announced plans to help combat the deadly virus prompted significantly more short selling, signaling skepticism on Wall Street. Short bets against the trio and those against Co-Diagnostics Inc. are among the highest levels in the last year as shares popped.
Novavax and Inovio, which were among the first to tout their plans to study drug candidates, have seen their initial rallies fade with gains now sitting at less than 20% from mid-January. With the hoopla slowly fading, more than 25% of Novavax shares available for trading are currently sold short, with about 14% of Inovio facing the same fate, data compiled by S3 Partners shows.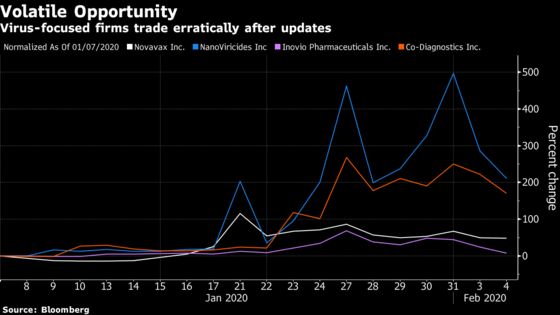 The smaller, more volatile companies NanoViricides and Co-Diagnostics, which are up more than 145% each, have drawn even more scrutiny from shorts. Short interest as a percentage of float spiked to top 38% and 17%, respectively, from just 7% and 5.6% at the start of the year, S3 data show.
"At this point we would be surprised if any of the R&D efforts that have been brought to light over the past week or two manifest into treatments effectively used to treat the current strain of coronavirus," Jared Holz, a Jefferies health-care strategist in New York, wrote over the weekend.
Claims to study medicines for problems like the coronavirus happen "every time an epidemic takes over," Holz continued. He pointed out that some management teams look to boost their value by mentioning vaccine strategies, though he is broadly skeptical of "companies being able to monetize the coronavirus in any material way, if at all."
Vir Biotechnology Inc. is another name that has gained after announcing plans to develop a drug candidate for the Wuhan strain of the coronavirus. Shares erased some of their gains this week, falling about 20% in the last two days, as Wall Street weighed its potential and JPMorgan downgraded its rating to neutral from overweight.
Vir Biotechnology short interest rose to 5% of shares available for trading, S3 data show, up from a November low of just 2.2%.