Health Care's $200 Billion Wipeout Sees ETF Dip Buyers Emerge
(Bloomberg) -- More than $200 billion has been wiped from the value of health-care stocks just this month. Now, exchange-traded fund investors are stepping in to stem the bleeding.
Of more than 1,500 U.S.-listed equity ETFs, two health-care funds run by State Street Corp. took in the most cash on Thursday ahead of the holiday. Combined, investors poured near $1 billion into the Health Care Select SPDR Fund and the SPDR S&P Biotech ETF, according to data compiled by Bloomberg. The average stock ETF saw outflows on that day.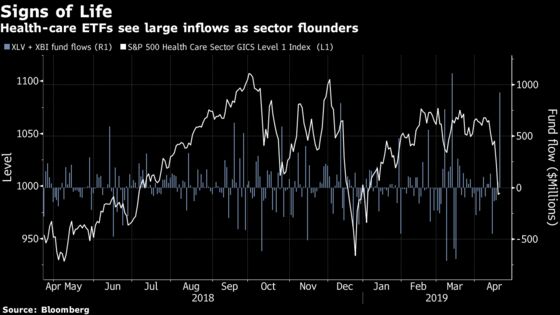 The dip buying comes at a time when health-care stocks' performance has turned negative on the year. The S&P 500 Health Care Index plunged 4.4 percent last week, extending the gauge's losses for April to near 6.5 percent as concerns over "Medicare for All" heated up. Should a decline of that magnitude hold, this month would mark the worst for the industry since the December market meltdown.
For some investors, shares have fallen too far too fast as it's unlikely that a change in policy materializes anytime soon, if at all. The $18 billion broad health-care fund, ticker XLV, took in more than $680 million Thursday, while the $4 billion biotech-focused ETF, ticker XBI, saw more than $240 million enter its coffers.
Miller Tabak + Co.'s Matt Maley says the odds of this policy proposal becoming the "law of the land" are much lower than in 2015, when Hillary Clinton proposed sweeping changes to health care. At the same time, XLV is extremely oversold, the equity strategist said in a note to clients Monday. "We believe the healthcare stocks are now poised to bounce back strongly... very soon," he wrote.