HDFC Bank Shares Jump After Profit Tops Estimates on Loan Growth
(Bloomberg) -- HDFC Bank Ltd., India's largest private lender by assets, posted third-quarter profit that beat analyst expectations after earnings were buoyed by strong loan growth. Shares jumped.
Net income was 87.6 billion rupees ($1.2 billion) in the three months through December compared with 74.2 billion rupees a year earlier, exchange filings on Saturday showed. That beat the average estimate of 76.4 billion rupees from 18 analysts, according to data compiled by Bloomberg.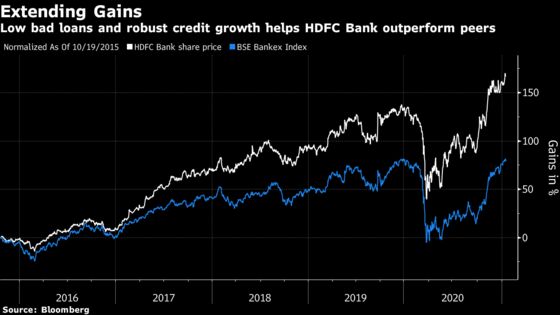 India's most valuable bank by market capitalization is the first lender to report third-quarter results. While banks largely withstood the coronavirus pandemic's economic fallout due to a revival in consumer spending, a six-month moratorium and a loan restructuring program has masked some of the soured debt.
Shares in HDFC Bank surged as much as 2.3% in Mumbai on Monday to a record 1,500 rupees, while the S&P BSE Bankex Index fell.
HDFC Bank's 18% profit growth may be "among the strongest performance reported by the larger Indian banks in fiscal 3Q ended December," said Diksha Gera, an analyst at Bloomberg Intelligence, adding that "peers Axis, ICICI and Yes Bank are likely to lag."
The gross bad loan ratio at the bank led by Chief Executive Officer Sashidhar Jagdishan narrowed to 0.8% at the end of December from 1.08% three months earlier. The ratio would have been 1.38% without the relaxation of rules regarding the recognition for bad debt, the bank said in the filing.
HDFC Bank's loan book grew by an annual 16% in the October to December period, outpacing the sector's average growth of 6%. Last year, the bank was ordered to curb some digital and credit card operations following a series of technical glitches, a rare step by the financial regulator as online transactions surge in the nation.
In 2020, "there were worries on unsecured loans, growth, management transition and tech-related issues during the later part of the year," said Suresh Ganapathy, an analyst at Macquarie Capital Securities (India) Pvt. "Despite all the challenges, HDFC Bank has done well."