Harvard Sets Path for Net Zero Greenhouse Gas Within 30 Years
(Bloomberg) -- Harvard University, the richest U.S. college, is vowing to work with its investment managers to create a path for "net zero" greenhouse gas emissions by 2050, after years of resisting pressure to divest from fossil fuels.
Harvard will begin a multi-year process to develop a methodology for calculating greenhouse gas emissions with assistance from faculty and the endowment's outside investment managers, the Ivy League school said Tuesday in a statement. The goal is to measure their portfolios' emissions levels to reduce them in the endowment, which is run by Harvard Management Co.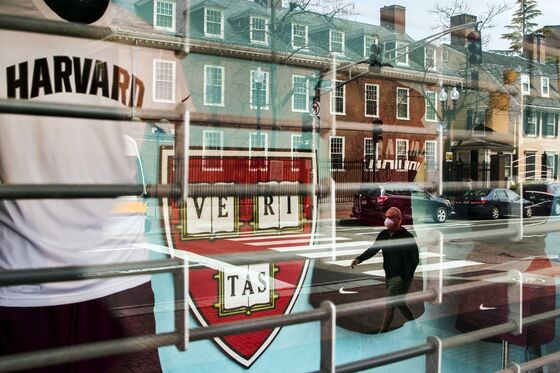 Student groups and some faculty have been calling for divestment at schools including Harvard, where protesters rushed the football field at the game against arch rival Yale last year. The richest colleges have largely resisted those efforts, as their portfolios are complex with alternative investments such as private equity that can be held for a decade.
The school's governing board directed the fund to provide an update by the end of 2020 to outline how it plans to approach the undertaking.
"With this commitment, our focus is on reducing the demand for fossil fuels, an action that is consistent with the university's overall commitment to reduce our operational carbon footprint," Harvard President Lawrence Bacow said in the statement. "It will require us to work with other investors to develop tools to monitor the carbon footprint of our investment managers."
Harvard's endowment was valued at $40.9 billion as of June 2019. The school didn't have an immediate comment on its value since the coronavirus roiled financial markets.