Harris Whips Through Iowa as She Battles Warren for Top Status
(Bloomberg) -- Kamala Harris made the traditional pilgrimage to Iowa after announcing her presidential campaign, but focused as much on a national audience as her fellow Democrats in the state who get the first official say in the nomination race.
The California senator on Monday whipped through Iowa, skipping more conventional interactions with voters for a nationally broadcast town hall that included questions from Iowans. That contrasts with the approach of other declared Democratic candidates, including Senator Elizabeth Warren of Massachusetts, who held roughly half a dozen events over three days during her first visit after announcing a likely presidential bid.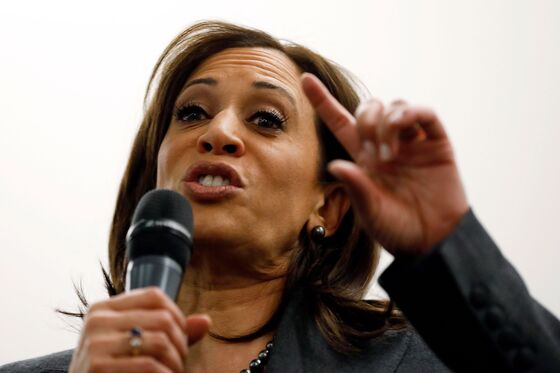 Harris, 54, and Warren, 69, are taking advantage of early starts that allow them to seize the mantle of front runners among the eight candidates who have already made their intentions clear. Their early entry could help them establish a foothold in anticipation of potential campaigns by former Vice President Joe Biden, Senator Bernie Sanders of Vermont or former Texas Congressman Beto O'Rourke. Recent polls show those three men would enter the race at or near the top of a growing Democratic field.
During CNN's live broadcast from Drake University in Des Moines, Harris spoke from a stage in front of a friendly audience of Iowans who said they plan to take part in the Democratic caucuses a little more than a year from now. She was animated as she answered questions about gun violence, health care, climate change and other issues.
As she highlighted how her parents met during the civil rights movement, Harris defended her record as a prosecutor and as California's attorney general, which some liberals have criticized as being too tough on minorities. Harris said she pursued that career to try to change the system from within.
"Nobody had to teach me about the disparities in the criminal justice system," Harris, the daughter of a Jamaican-born father and Indian immigrant mother, said. "I was born knowing what they are."
On gun violence, Harris said Congress has failed to lead. She pointed to the 2012 shooting rampage at a Connecticut school that left 26 people -- mostly children -- dead and said members of Congress should have been forced into a room to view the autopsy photos and then been asked to "vote your conscience."
Her Iowa stop followed a more formal campaign launch Sunday with a speech to a large crowd in Oakland, California. She's bidding to make history as the first African-American woman and the first person of Asian heritage to become a major party nominee. Her campaign reported raising $1.5 million from roughly 38,000 donors during the first 24 hours after she announced her campaign on Jan. 21.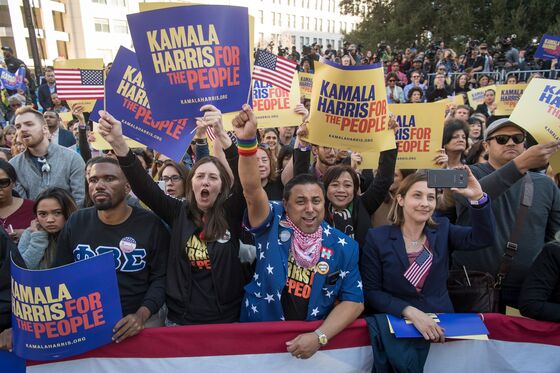 After Iowa's caucuses and New Hampshire's primary, the nomination calendar favors a candidate like Harris who might be well positioned to win strong support from black voters in the South and of Democrats in the western states of Nevada and California.
Harris made her first campaign stop Friday in South Carolina, where more than six in 10 of the state's 2016 Democratic primary voters were black. The state is fourth in line on primary and caucus calendar after Iowa, New Hampshire and Nevada.
In early March 2020, her home state of California is expected to be among multiple states voting in what's shaping up to be a "Super Tuesday" round of contests that could prove decisive in the nomination battle. With early voting increasingly common, primary voters in California are now scheduled to start casting ballots the same day Iowans attend caucuses.
During her Iowa visit, some of Warren's stops took her to conservative parts of the state, as she sought to prove her comfort outside urban America and show stamina for what promises to be a long slog. By the second day, she was losing her voice, but still posed for photos with anyone who wanted one.
The early Iowa forays by Harris, Warren and New York Senator Kirsten Gillibrand, who announced earlier this month that she's taking a first step toward a campaign, have tended to overshadow lesser known candidates, both declared and prospective.
A visit to the state Sunday by former Colorado governor John Hickenlooper, who is contemplating a presidential bid, illustrated the challenges ahead for those fighting for attention in a rapidly growing field expected to eventually grow to the largest in a generation.
Harris and Hickenlooper also exemplify a debate playing out in the Democratic Party over the type of candidate best positioned to beat President Donald Trump. Harris represents the kind some argue could have a greater appeal to the progressive base as well as an increasingly diverse nation, while a more centrist, traditional one like Hickenlooper might sell better in Midwest states that drifted from the party in 2016.
The 66-year-old isn't expected to formally declare his candidacy until sometime in March. But he took a traditional approach with his first 2019 landing in Iowa as a likely presidential candidate. More than 100 people packed into a suburban Des Moines home of a frigid afternoon to meet him, snap photos and pepper him with questions.
Hickenlooper's record on energy issues and climate change could put him at odds with the Democratic base that dominates the nomination process. While he supported limits on methane and vehicle emissions as governor, he also defended hydraulic fracking and the energy industry in general. And questions about fracking and oil pipelines were among the first he encountered after arriving at the home of a college friend in suburban Des Moines.
Hickenlooper defended his environment credentials and sold himself as a pragmatist with a record of getting things done by working with both parties. "I don't think there's anyone else that can reliably, as I can, beat Donald Trump," he said, wearing a name badge that simply said "Hick."
Later, at a Des Moines brew pub, Hickenlooper mingled with patrons and potential supporters. The co-founder of a brewing company in Denver who also expanded to a now-closed pub in Des Moines, he showed his experience behind the bar by pouring several pints.
Jay Yarnell, 67, a retired chemical engineer from suburban Des Moines who serves as a Democratic precinct captain, was one of those who came to see Hickenlooper at the bar.
"I'm going to go with someone who could win nationally," he said. "He knows how to deal with purple states and is someone who could actually win this thing."
Assuming severe winter weather doesn't get in his way, Democratic Senator Sherrod Brown of Ohio is the next possible presidential candidate scheduled to visit Iowa. He's booked for Thursday as part of a "Dignity of Work" tour that he plans to begin on Wednesday in his home state.