Elizabeth Warren Says 'No' to Nuclear Power: Campaign Update
(Bloomberg) -- Elizabeth Warren is vowing to wean the country off nuclear power if elected president, joining a number of candidates who say the risks outweigh the benefit of the carbon free electricity source.
"The problem is it's got a lot of risks associated with it, particularly the risks associated with the spent fuel rods," Warren said during a presidential forum on climate change hosted by CNN. "In my administration we are not going to build any new nuclear power plants."
Warren's remarks come as Democratic candidates split over their support for the power source, which has drawn opposition from progressives and some environmental groups who have qualms over nuclear waste storage and mining uranium for fuel. Other candidates who either want to phase out the use of the fuel or stop the construction of new plants include Bernie Sanders, Tulsi Gabbard, Pete Buttigieg, and Julian Castro.
Joe Biden, the Democratic race's front-runner, has called for funding new nuclear technologies.
Sanders says U.S. Shouldn't Fund Coastal Rebuilds (10:14 p.m.)
It's "pretty stupid" to keep giving coastal residents federal money to rebuild homes in areas with repeated natural disasters, Senator Bernie Sanders said at a nationally televised climate town hall.
"I don't think it makes a lot of sense to rebuild that house so it is, you know, knocked down again in the next storm," Sanders said when asked at the CNN town hall if people in coastal communities would have to move further inland as storms got more frequent and severe.
If he were elected, he said, his administration would not provide federal assistance to people who want to rebuild in the same vulnerable places. Instead, he supported changing Federal Emergency Management Agency rules so those homeowners could build in another area. -- Emma Kinery
Biden Defends Money From LNG Company Founder (9:29 p.m.)
Democratic 2020 front-runner Joe Biden said he didn't know the host of an upcoming fundraiser was the co-founder of a natural-gas company, even though he pledged not to take any money from fossil-fuel company executives.
"I didn't realize he does that," the former vice president said when asked about a report he plans to attend a fundraiser Thursday co-hosted by Andrew Goldman, the co-founder of Houston-based natural gas company Western LNG.
He seemed to blame his campaign staff, saying, "I was told if you look at the SEC filings he's not listed as one of those executives. That's what we look at."
Goldman, who is listed on Western LNG's website as a co-founder, now serves as chief investment officer of Hildred Capital Partners, and said he advised Biden when he served in the Senate.
In a statement, the Biden campaign said Goldman is not a fossil fuel executive and isn't involved in the day to day operations of the company and doesn't serve on the board of the company, or the board of the portfolio company. Biden stood by a pledge he signed not to accept donations from fossil fuel executives and hasn't violated it, the statement said. -- Ari Natter
Klobuchar Offers Cheeseburgers, Climate Plans (8:22 p.m.)
Amy Klobuchar said she hopes to preserve hamburgers and cheese while fighting climate change.
The Minnesota senator found herself defending some of those heartland positions against questions from activists at a CNN forum.
One challenge came from Ari Papahronis, who said cattle ranching for beef and dairy products -- a large industry in Klobuchar's home state -- had contributed to the deforestation and widespread fires in the Brazilian Amazon.
"I am hopeful that we're going to be able to do this in a way, especially when I am president, where we can continue to have hamburgers and cheese," she said, adding: "I understand there are people who choose to eat vegan and that's great too."
And she defended her support for a Trump administration effort to remove the gray wolf from the endangered species list, which would give Minnesota officials more flexibility in managing the estimated 2,800 wolves in the state.
"Let me make very clear, I am strongly in favor of the Endangered Species Act," Klobuchar said. She said the wolf population had reached the numbers allowing it to come off the list. -- Gregory Korte
No Plastic Straws in a Harris Administration (7:55 p.m.)
Kamala Harris says that as president she would encourage reusable shopping bags and would ban plastic straws, even as she complained that paper straws often fall apart and get "droopy" before she can finish a beverage.
Harris, California's junior senator, said she would work to make incentives for Americans to create eco-friendly life changes in addition to her plan to create a clean economy by 2045 and hold corporations accountable for their environmental impact.
"There has to be accountability and consequences," she said at the CNN Climate Crisis Town Hall. "Yes they're going to pay money, and they're going to pay fines, and they're going to pay fees."
Referring to the measures taken in her home state, the senator said most Californians wouldn't say their lives have changed all that much because of environmentally conscious practices. The government, she said, should entice Americans to do things like use renewable shopping bags and paper straws instead of plastic ones. Single-use plastic shopping bags and straws have both been banned in the state.
Harris released her $10 trillion plan to tackle climate change Wednesday morning ahead of the town hall. It includes a ban on fracking and a plan to make 100% of American electricity tis carbon-neutral by 2030. -- Emma Kinery
Yang Gets Green New Deal Details Wrong (7:12 p.m.)
Democratic candidate Andrew Yang repeated a common, but untrue, criticism of the progressive Green New Deal, saying the plan would end air travel.
Yang, who has voiced support for the climate proposal championed by New York Representative Alexandria Ocasio-Cortez, said he agreed with the vision of the plan, but added that he took issue with the timing of the resolution, which calls for a "10-year mobilization" to achieve net-zero green house gas emissions.
"They are right we need to take urgent action, but the timeline that they put out there would do away with commercial air travel and a lot of other things in a particular time frame," Yang said during a climate town hall hosted by CNN. "If we had a little more time we can head in the same direction and achieve most of the same values."
While the Green New Deal does call for "overhauling transportation systems in the United States to remove pollution and greenhouse gas emissions from the transportation sector as much as is technologically feasible," it doesn't specifically mention air travel. -- Ari Natter
Castro Defends Fracking Stance at Climate Forum (6:11 p.m.)
Fracking emerged as an early fault line among Democratic presidential candidates appealing to environmental voters Wednesday, as Julian Castro defended his previous support for natural gas extraction and said he would not impose a nationwide ban.
"I support local communities and states that want to ban fracking. I have not called for an immediate ban on fracking," Castro said, kicking off CNN's seven-hour town hall on climate issues, which will feature 10 of the 2020 contenders.
Climate activist and high school student Sila Inanoglu challenged Castro on his support for natural gas extraction. "When I was mayor of San Antonio, I did believe there were opportunities to be had in the fracking that was going on in south Texas," Castro responded. "Back then, which was a decade ago, we were talking about natural gas as a bridge fuel. We are coming to the end of the bridge."
Earlier in the day, Bernie Sanders called on all Democratic candidates to unite behind a nationwide fracking ban.
Castro said he would end oil and gas leasing on public lands, bolster flood mitigation investments and sign an executive order getting the U.S. back into the Paris climate accord. -- Gregory Korte
Trump Attacks Democrats' Climate Change Forum (5:49 p.m.)
President Donald Trump didn't miss a beat in offering his prebuttal of CNN's climate change forum with Democratic presidential contenders on Wednesday.
The president unleashed a tweet storm just as the first of 10 candidates, Julian Castro, began to speak. In a series of posts, Trump spelled out "8 FACTS" he said the network would ignore. He accused China of having "dumped the most carbon into the air," said the U.S. "has the largest climate reduction," and called the Paris Climate Agreement, from which he withdrew the U.S., a "badly flawed" deal.
He also said the U.S. "leads the world in energy production" and has the world's "cleanest and safest air and water."
Trump has previously called climate change a hoax perpetrated by China and said without evidence that wind turbines cause cancer. His administration has taken action to boost fossil fuels by rolling back Obama-era clean energy initiatives along with other regulations intended to preserve the environment. -- Jordan Fabian
Trump Campaign Funds North Carolina Candidate (4:38 p.m.)
President Donald Trump is invested in the outcome of next week's election for a U.S. House seat in North Carolina – literally.
The president's campaign announced Wednesday that it had given Dan Bishop, the Republican in the hotly contested race, a maximum donation of $2,000.
Trump's re-election effort said last week that the president would hold a rally to help Bishop in Fayetteville, North Carolina, one day before the Sept. 10 vote. A poll last week showed Democrat Dan McCready has a narrow edge over Bishop in a redo of an election that North Carolina's Board of Elections refused to certify over allegations of ballot fraud.
Trump won the district with 54% of the vote in 2016. A GOP loss for a seat that was previously held by Republican Robert Pittenger would be seen as a sign of weakness of Trump's coattails in a state that also will be in play in the presidential election. -- Laura Litvan
Reid Won't Endorse Until State Caucus (4:20 p.m.)
Former Senate Majority Leader Harry Reid is a coveted endorsement in the key early state of Nevada, but he said Wednesday he doesn't intend to throw his support behind a Democratic presidential candidate before the caucuses.
"Until that's done I'm not even considering an endorsement. And I've told all my friends that. I've said I can't endorse you," he told reporters Wednesday.
Reid, who served as a senator for three decades and remains influential in Nevada, said he's "impressed with all the candidates" on climate change and hosted a conference call to praise the plans for action to limit greenhouse gas emissions.
The Nevada caucuses are the third contest on the Democratic calendar and will take place on Feb. 22, 2020. -- Sahil Kapur
De Blasio Says It's October Debate or Bust (3:07 p.m.)
New York Mayor Bill de Blasio said he probably will drop out of the race for the Democratic presidential nomination if he's unable to meet the requirements to participate in an October debate.
De Blasio, 58, said he was disappointed when he failed to qualify for a Sept. 12 debate, which required candidates to have 130,000 donors and a 2% favorite rating in four separate national polls. Candidates are required to meet the same benchmarks to qualify for an October debate.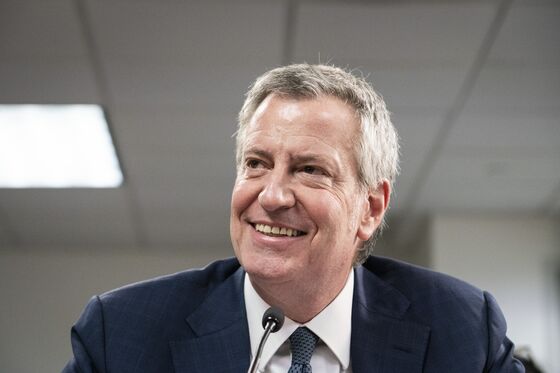 "I want to get into the October debates if I can. I think that's a good reason to keep going forward," de Blasio said during a news conference in Manhattan Wednesday. "If I can't it's really tough to conceive of continuing, so that's the way I look at it."
The mayor of the most populous U.S. city has struggled to gain voter support after campaigning in Iowa, South Carolina, New Hampshire and Nevada since announcing his candidacy in May. He has depicted himself as the only progressive Democrat in the race who has executive experience and has pitched his candidacy as an advocate for working people, pledging universal health care, pre-kindergarten, a $15 minimum wage and a 70% tax rate on earnings more than $2 million a year.
De Blasio told reporters he is pinning his hopes on an unexpected campaign moment that could catch the imagination of American voters, saying his 2013 election as mayor, and the 2016 campaign that brought President Donald Trump to the White House were part of political trend toward unpredictability. -- Henry Goldman
Biden Has Strong Lead in Battleground Wisconsin (2:14 p.m.)
Joe Biden leads the Democratic presidential field in Wisconsin, a key battleground state in the 2020 general election, according to a poll by Marquette University Law School released Wednesday.
Biden held 28% support in the Democratic sample — ahead of Bernie Sanders with 20%, Elizabeth Warren with 17%, Pete Buttigieg with 6%, Kamala Harris with 3% and Andrew Yang at 2%. The other candidates had 1% or less.
In head-to-head general election match-ups, Biden led President Donald Trump by 51% to 42%, while Sanders led him 48% to 44%. The lesser-known Warren and Harris were tied with the president, though many voters didn't have an opinion when asked to rate them favorably or unfavorably.
Wisconsin is expected to play a central role in 2020, as it did in the previous cycle. Hillary Clinton, the 2016 Democratic nominee, was criticized for failing to campaign there during the general election. Trump narrowly carried the state, which had consistently backed Democrats since 1988.
The poll surveyed 800 registered voters Aug. 25-29. The Democratic sample had a margin of error of 5.3 percentage points. The margin of error for the full sample was 3.9 points. -- Sahil Kapur
Miners Warn Democrats on Ending Coal (1:00 p.m.)
The head of the largest U.S. miners union said Democratic presidential candidates participating in a climate change town hall Wednesday need to assure coal miners they won't suffer any "negative effect" from ending the use of the fossil fuel.
Cecil Roberts, president of the United Mine Workers of America, said coal miners are "tired of being cast as villains" and are deeply skeptical of campaign promises they will win well-paying jobs in other sectors as the mineral is phased out as a power source.
The 10 Democrats at the CNN climate change forum "will be working hard to outdo each other as to how fast they would eliminate coal and coal miners' jobs from our nation's energy mix," Roberts said. "But if they have any hope of winning the votes of those coal miners, families or communities, they had better also make it clear that none of those miners, families or communities will see any negative effect from losing their coal jobs."
Climate change plans from the leading Democratic contenders would cut federal subsidies for coal producers, levy new fees on coal companies, pressure other countries to cut back on the fuel's use and promote clean energy alternatives. Some of their plans also include help for workers affected by coal's downturn by guaranteeing their health care and pensions or providing job retraining.
Roberts said miners are skeptical they will receive any help as Congress hasn't fulfilled earlier promises to protect the pensions of workers at bankrupt mining companies. "We want our pensions saved; we want our health care plans saved. If you can't do that and it's been 10 years, how can we believe you will give us a just transition?" Roberts asked. -- Jennifer Dlouhy
Biden Supporters Prefer Sanders to Warren (11:13 a.m.)
Joe Biden and Bernie Sanders appeal to seemingly very different constituencies within the Democratic Party. But potential primary voters could swing between moderate and progressive if their first-choice candidate drops out of the race.
When asked who they would choose as a second option for the nomination, 27% of Biden supporters said they'd pick Sanders, and 30% of Sanders supporters said they'd back Biden, according to a survey by Morning Consult released Sept. 3.
Elizabeth Warren, who's positioned herself between Sanders and Biden in the Democratic spectrum, trailed both as a second option, and would get 24% of Biden supporters and 27% of Sanders backers. Among the top five candidates, only Pete Buttigieg's supporters chose Warren as their second choice.
The survey, based on 16,736 interviews between Aug. 26 and Sept. 1, also showed Biden, Sanders and Warren leading the Democratic primary race with 32%, 20% and 16%, respectively. Kamala Harris was at 8% and Buttigieg at 5%. -- Misyrlena Egkolfopoulou
Harris Sets $10 Trillion Climate Change Plan (6:00 a.m.)
Kamala Harris has unveiled a $10 trillion private-public plan to tackle climate change by creating a fully clean-energy economy by 2045.
Harris announced the ambitious target hours before a climate change town hall for Democratic presidential candidates Wednesday on CNN.
The California senator says she would rely on her experience as a prosecutor to hold polluters accountable. Her "Climate Plan For the People" would also "end federal support for the fossil fuel industry through both executive action and legislation, putting a fee on pollution, and increasing penalties and forcing companies to prove they are not polluting."
In addition, she would pursue justice for communities most affected by climate change, protect national resources and re-enter the Paris climate accord.
Harris called for 100% of American electricity to be carbon-neutral by 2030, phasing out fossil fuels in the transportation sector, and a swath of new investments designed to build out the clean energy economy. -- Sahil Kapur
Joe Biden, Elizabeth Warren and Bernie Sanders, along with most of the other Democratic candidates, are expected to attend the New Hampshire Democratic Party State Convention in Manchester on Saturday, Sept. 7.
Ten candidates will face off in the third Democratic debate on Sept. 12 in Houston. It will be the first time Biden and Warren share a debate stage. Cory Booker, Pete Buttigieg, Julian Castro, Kamala Harris, Amy Klobuchar, Beto O'Rourke, Sanders and Andrew Yang will also participate.