Harley Warns No 'Quick Fix' Will Rebuild Shrinking Customer Base
(Bloomberg) -- Harley-Davidson Inc. posted one of its worst U.S. sales showings in years and warned of a long road ahead to getting Americans to buy and ride its motorcycles again.
U.S. retail deliveries plunged 13 percent in the three months that ended in September, the steepest quarterly drop in more than eight years. Demand at home has now declined in 15 of the last 16 quarters and is overwhelming tepid growth overseas.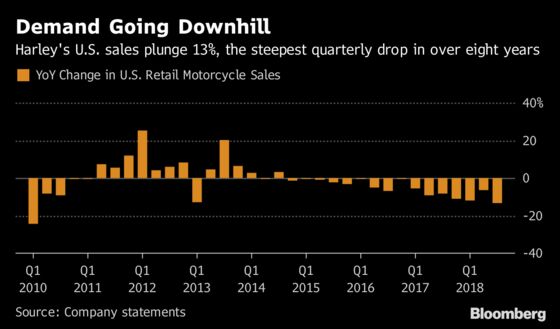 Chief Executive Officer Matt Levatich has crafted a turnaround plan to reach younger riders with a spruced-up lineup, readying as many as five electric models -- including lightweight, urban bikes -- by 2022. If that transition weren't enough of a leap for a company known for big, rowdy choppers, President Donald Trump has encouraged consumers to boycott Harley over how it's reacted to his trade wars.
"It will take time; it is not a quick fix," Levatich said on an earnings call Tuesday. "It is clear there's a fundamental issue with the U.S. industry and increased ridership is key to returning to growth."
Harley shares fell as much as 6.7 percent and were down 2 percent to $37.95 as of 12:30 p.m. Tuesday in New York. The stock has lost about 25 percent this year and is on track for its lowest close since January 2016.
The motorcycle manufacturer is still trying to get a handle on how to deal with tariffs that the European Union slapped on its bikes earlier this year as retaliation for Trump's levies on steel and aluminum. Early next year, Harley plans to share the details of a plan to shift some production of EU-destined bikes overseas to sidestep as much as $100 million in costs a year.
The shift has drawn the ire of Trump, who's repeatedly attacked the Milwaukee-based company on Twitter, and even said he would support consumers snubbing its bikes. He's accused Harley of using tariffs as an excuse to move jobs overseas.
Levatich unveiled a turnaround plan in July that called for as much as $550 million in operating investment and $275 million in capital investment through 2022. By then, the company forecasts increasing revenue by as much as $1.5 billion and operating profit by as much as $250 million.
In spite of the slump in U.S. sales last quarter, Harley reported earnings per share that topped analysts' estimates, excluding costs related to closing a plant in Missouri. Total revenue also beat projections. The company maintained its forecasts for shipments and operating margin to be lower than a year earlier.
"The U.S. retail numbers are pretty awful," James Hardiman, an analyst with Wedbush Securities Inc, said in an email. "I'm actually surprised they didn't lower their guidance given that performance."
Harley executives said they're working to mitigate the impact of tariffs that will cost the company as much as $48 million in 2018. They declined to say whether they're seeking tariff exemptions from the Trump administration.
"We are doing everything we can on every avenue to make sure we minimize the impact of those tariffs to our customers, our profitability," Levatich said. "That includes working with government and trade officials as well as our supply base and production, where we produce."