Hard Reality of South Africa's Eskom Plan Brings Rand Bears Back
(Bloomberg) -- The South African rand's best start to a year since 2012 may have come under threat as traders turn skeptical after President Cyril Ramaphosa's state-of-the-nation address.
While the currency headed for the worst week since Oct. 5, weakening for a third day, the spot-market losses looked modest compared to options bets for its decline in the next three months. The premium of contracts to sell the rand over those to buy it, known as the 25 Delta risk reversal, rose for a fourth day to the highest this year.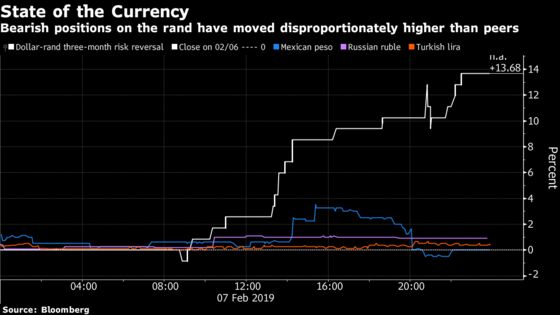 Optimism that sent the rand to its biggest January gains since 1986 has given way to doubts Ramaphosa's rescue plan for the ailing state power utility Eskom will work. That's because trade unions were swift to criticize the president's proposal to split the company into three entities after it suffered massive losses and piled on debt.
The Congress of South African Trade Unions, the country's biggest labor group said the move will lead to job losses and privatization.
But the Eskom crisis may just be the trigger for bears looking to move in on the rand for other reasons.
South Africa is generally a bellwether for emerging-market risk and concerns of a more protracted loss in global growth momentum have been broadly weighing on sentiment, said Natalie Rivett, a senior emerging-markets analyst at Informa Global Markets in London.
"Attention will be turning to the South African budget and this brings rating downgrade risk back to the fore," she said. "While this may not necessarily trigger a Moody's rating downgrade to junk, negative outlook likely, the rating agency could still be forced to act later this year if reform efforts fall short of expectations after the May elections."