Death of Korean Air Patriarch Puts Focus on Future of the Group
(Bloomberg) -- Cho Yang-ho, the chairman of a South Korean group that controls Korean Air Lines Co., died Sunday in a Los Angeles hospital, turning the focus on the future of the conglomerate that's been plagued by scandals involving family members.
Cho succeeded his father in 2003 as head of the Hanjin Group and expanded Korean Air, becoming one of the founding members of the global alliance SkyTeam. The airline, which announced his death in an emailed statement Monday, didn't reveal the cause of his death. Cho, who was 70, had a surgery for a lung condition last year but was believed to have recovered, a representative of the group said.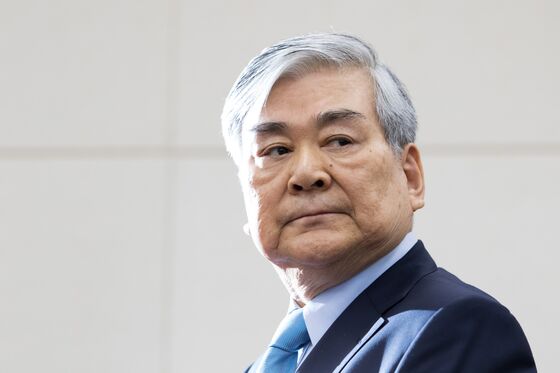 The departed patriarch is survived by his wife, Lee Myung-hee, daughters Heather and Emily, and son Walter, currently president and chief operating officer of Korean Air and most likely to succeed his father as head of the group.
The senior Cho was recently on trial on embezzlement allegations brought by Korean prosecutors, and his family has been at the center of controversies surrounding their public behavior. Cho was ousted from the board of Korean Air last month by shareholders as assertive minority investors demand more accountability from controlling families. Shares of Hanjin Kal Corp. surged by a record 21 percent Monday in Seoul amid speculation the family's stake could be reduced after Cho's death.
Read more about Cho's ouster from the board of Korean Air here
Walter Cho, 43, could face challenges to his succession and may have to mortgage some of the assets to raise money for an inheritance tax of as much as 50 percent, said Lee Sang-heon, a corporate governance analyst at Hi Investment & Securities in Seoul. The older Cho was the largest shareholder of Hanjin Kal, the holding company for the group, with about 17 percent, while a local activist fund Korea Corporate Governance Improvement Ltd. owns 13.6 percent.
"Walter Cho is likely to inherit the chairman's stake," Lee said. Because of the inheritance tax, the stake handed to Walter could be half of that owned by the deceased Cho, unless he is able to pay the full tax, he said.
The prospects of a weak leadership until Walter's succession is cemented may strengthen minority shareholders who've been pushing for better governance.
Korea Corporate Governance Improvement suggested a five-year recovery plan for the Hanjin Group to bolster the BBB level credit ratings of its companies and improve governance. The activist fund, run by Kang Sung-boo, once head of fixed-income research at Shinhan Investment Corp., has also asked the firms to sell undervalued assets and dispose of loss-making businesses.
The activist had asked Hanjin Kal to appoint an auditor and two outside directors at the shareholder meeting on March 29 but failed to put the agenda on the meeting as a court sided with Hanjin that KCGI was not qualified to exercise shareholder proposal rights due to short-term holdings.
Cho Yang-ho was facing trial for allegedly embezzling 19.6 billion won ($17 million) in fees meant for Korean Air from maintenance and duty-free operations in the five years through 2018. The October indictment came after a string of incidents involving family members that became national news.
In April last year, Cho's youngest daughter faced public criticism for allegedly throwing water in the face of someone during a business meeting. She was cleared of all charges. In 2014, the other daughter made headlines for demanding that a plane operated by her father's company return to the gate in New York because she wasn't happy with the nuts she was served in first class.
Cho became chairman of Korean Air in 1999 and transformed it into one of the biggest carriers in Asia. He also helped South Korea hold the Winter Olympics last year.