Handelsbanken Now Sweden's Smallest Major Bank in Historic Shift
(Bloomberg) -- Svenska Handelsbanken AB has for decades been Sweden's second-largest bank by market capitalization, dwarfed only by its mighty rival Nordea Bank AB. But in the past few weeks its position has tumbled to No. 4.
Handelsbanken is now valued at 208 billion kronor ($23 billion), lagging behind SEB AB and Swedbank AB. Nordea weighs in at about 390 billion kronor.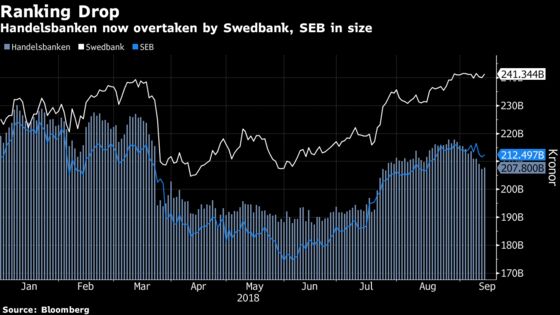 In the past 10 years, Handelsbanken being relegated to fourth place was almost unheard of. While it has been overtaken by either Swedbank or SEB for periods since late 2008, this is the first time both have outflanked it simultaneously. You need to go all the way back to 2007 for the last occasion when Handelsbanken spent a few weeks out of the top three.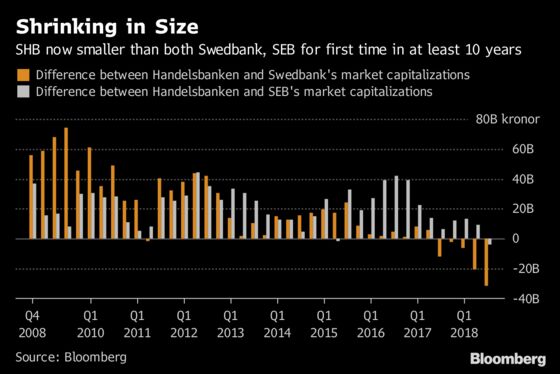 Handelsbanken is also the least-popular major Swedish banking stock, suggesting it could be stuck at No. 4 for a while. Based on analysts' average share-price estimates, it's expected to drop 1.5 percent in the coming 12 months, while Nordea, SEB and Swedbank are projected to rise.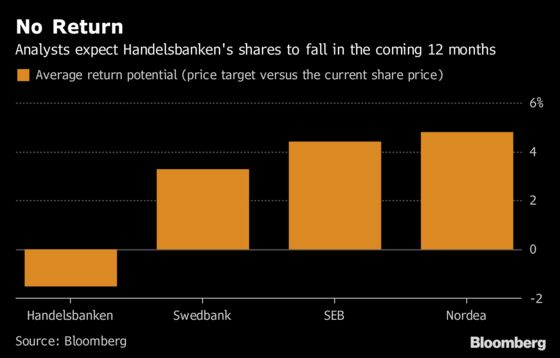 That's also evident in analyst ratings, with Handelsbanken saddled with the largest proportion of sell recommendations among the four, at 43 percent.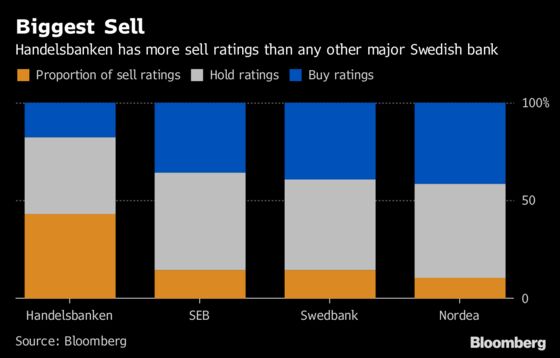 It's not the first time Handelsbanken has fallen out of favor. In the mid-2000s, question marks were raised about its decision not to expand in rapidly growing Estonia, Latvia and Lithuania where other Swedish banks were establishing themselves. The strategy looked better when Baltic boom turned to bust in the wake of the global financial crisis and caused soaring loan losses for Swedbank and SEB.
And while Handelsbanken's de-centralized and customer-focused stance and reliance on physical branches was long praised as a model other lenders should copy, analysts are examining how viable such a strategy is in an increasingly digitalized world.
The price-earnings premium Handelsbanken enjoys against its three main rivals has been shrinking in the past two years as the market has questioned its digital approach, according to Robin Rane, a bank analyst at Kepler Cheuvreux in Stockholm.
"I don't think that Handelsbanken significantly lags behind its peers regarding the digital, but rather that it's been bad at communicating about that strategy."
After its second-quarter results on July 18, Handelsbanken shares fell 2.5 percent as traders reacted to higher-than-expected costs and as analysts raised concerns about intensifying competition in Sweden. The bank said then it would introduce efficiency measures focused on digitalization and aimed at curbing expenses.
"Handelsbanken has a rather special business model centering on the local offices, and I think that the market has increasingly started to question that strategy in this digital era," said Rane. "The more fundamental question is whether Handelsbanken's local office strategy will work in the long run."