Halliburton Slashes Spending to Brace for Sharp Demand Drop
(Bloomberg) -- Halliburton Co. is cutting spending, salaries and jobs as the fracking behemoth navigates what is shaping up to be the worst-ever oil bust.
The company set full-year 2020 capital outlays at $800 million, 33% below previous guidance and the first sub-$1 billion budget since the depths of the last crash in 2016. Demand for the company's offerings will "sharply decline" during the current quarter and remain weak at least through the rest of the year, Halliburton said in a statement on Monday.
In the first quarter alone, North American orders shrank by one-fourth and the company is responding by cancelling all planned raises and eliminating an entire layer of management. Halliburton maintained its dividend - unlike rival Schlumberger Ltd.'s 75% cut -- but won't increase its debt load to preserve the payouts, Chief Executive Officer Jeff Miller said during a conference call.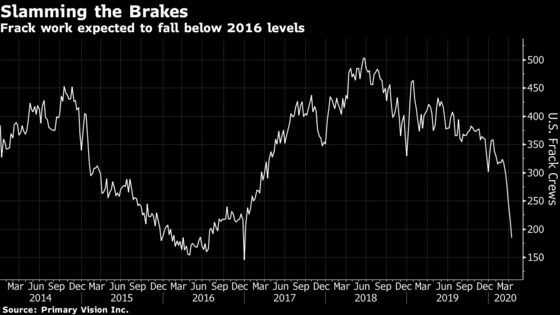 Miller has furloughed or let go thousands of workers to stay ahead of the oil-price crash that's prompting exploration companies to cancel projects. Halliburton's crown jewel business -- hydraulic fracturing -- is in for a major correction: as much as 60% of U.S. fracking demand will fall off the map by July 1, according to rival Schlumberger.
Halliburton wrote down the value of fracking gear and other assets to the tune of $1.1 billion. Industrywide, the number of fracking crews deployed across U.S. oilfields slid by 21% last week to 147, close to the all-time low touched in late 2016, according to research and data analysis firm Primary Vision. The tally has tumbled 56% this year.
Halliburton's write down followed similar moves by Schlumberger, which recorded an $8.5 billion pretax, first-quarter charge, and Baker Hughes Co., which wrote down $15 billion in value from two of its biggest businesses. Baker Hughes is scheduled to disclose full results on Wednesday.
Pressure on the industry intensified Monday when U.S. crude sank to levels not seen since 1998. New York-traded futures dipped as much as 41% to less than $11 a barrel and in some regions crude was trading for as little as $2 as excess supplies ran headlong into cratering demand amid the Covid-19 outbreak.
Halliburton fell 5.4% to $7.17 at 9:42 a.m. in New York trading.
The hired hands of the oil patch that drill and frack wells have been among the hardest hit during the downturn. Since the start of 2019, the U.S. oilfield services sector has shed almost 50,000 jobs, or about 13% of its workforce. This year alone, the Philadelphia Oil Services Index lost roughly two-thirds of its value.
U.S. shale explorers have already slashed more than $29 billion from previously announced spending plans.
Schlemberger CEO Olivier Le Peuch warned analysts and investors on a conference call at the end of last week that the current period "is likely to be the most uncertain and disruptive quarter that the industry has ever seen."