Halliburton's Outlook Overshadowed by Weak End to 2018
(Bloomberg) -- Halliburton Co.'s optimistic outlook for the U.S. oil and gas industry in 2019 was overshadowed by a worse-than-expected projection for the final three months of this year as activity slows throughout North America.
Shares of the world's biggest provider of fracking services dropped as much as 3.5 percent on Monday after it forecast earnings per share in the current quarter will be as much as 40 cents, compared with the 49-cent average of analysts' estimates compiled by Bloomberg.
Chief Financial Officer Chris Weber told investors and analysts on a conference call that the Houston-based company's fracking activity will decline in the current quarter by a low double-digit percentage.
Still, Halliburton struck a more upbeat tone than its biggest rival, Schlumberger Ltd., which said last week that the fracking slowdown in the U.S. may extend into the second quarter of next year and that pipeline constraints in the booming Permian Basin in Texas and New Mexico should be addressed within the next 12 to 18 months. After two straight years of double-digit growth, explorers in the U.S. and Canada are expected to increase spending in 2019 by less than 1 percent to $147 billion, according to Morgan Stanley.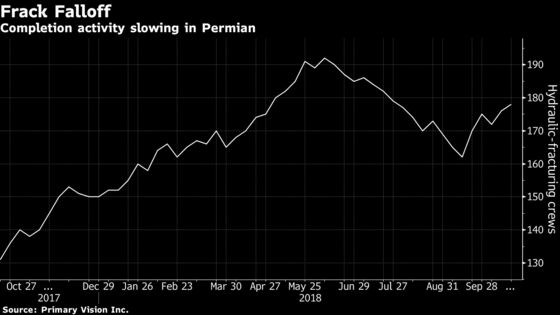 "The catalysts for improving demand for services are clearly visible: supportive commodity pricing, expanding offtake capacity, building well inventory, and reloaded customer budgets," Halliburton Chief Executive Officer Jeff Miller said in a statement.
While investors are relieved to hear "realistic" expectations for the current quarter from Halliburton, they're skeptical if things will turn around as quickly as the company says they will, Byron Pope, an analyst at Tudor Pickering Holt & Co. said in an interview.
"Where the debate comes into play in investors' minds is whether Halliburton can truly definitively call the bottom in U.S. land activity" in the fourth quarter, Pope said. "Even though E&P companies will reload their budgets, our sense is that they're not necessarily going to push the pedal to the metal when you turn the calendar on the year."
Houston-based Halliburton reported third-quarter net income rose to 50 cents a share from 42 cents a year earlier, beating by 1 cent the average of analysts' estimates compiled by Bloomberg. Halliburton had warned last month that third-quarter results would be hurt by a range of 8 to 10 cents a share, partly from the Permian slowdown. With that in mind, its third-quarter numbers weren't surprising, Stephen Gengaro, an analyst at Stifel Financial Corp., said in an interview.
The shares were down 2.4 percent to $36.65 at 10:42 a.m. in New York.
Third-quarter revenue was $6.17 billion, compared with the average estimate of $6.11 billion.
Operating income was $716 million, versus an average estimate of $696.3 million.
For more details on the earnings, click here.