Halfords Falls Most Since Brexit Vote as CEO Eyes More Spending
(Bloomberg) -- Halfords Group Plc, the U.K. car-parts and bicycling retailer, fell the most since the vote to leave the European Union after its new chief executive officer said planned investments will probably keep profit from growing this year.
Graham Stapleton, who took over as CEO in January, plans to accelerate investments in the retailer's provision of services -- like changing tires or fitting new brakes -- and in customer relationships and data management. The shares fell as much as 15 percent.
"This is the third CEO to come into the business and increase investment, to not generate any more profit," Berenberg analyst Michelle Wilson said by email. "There will be a perception that there continues to be a lot of work just to stand still."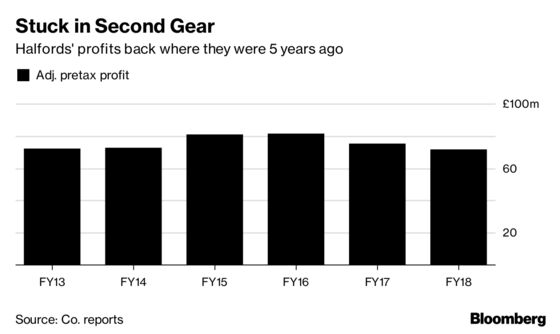 Stapleton is the company's third CEO in three years; his predecessors were poached by Marks & Spencer Group Plc and Tesco Plc. The increased investments come at a time when the U.K. retail sector is battling against a squeeze on disposable incomes and soaring costs as a result of minimum-wage increases and Brexit-fueled inflation.
Those investments mean pretax profit will be broadly level with the 71.6 million pounds ($96.1 million) the retailer reported last year, the company said. Analysts had expected profit to rise by about 5 percent this year, according to a Bloomberg consensus estimate.
Due to online competition and the investment programs of successive CEOs, profit at Halfords has been little changed since 2013. Stapleton's predecessors invested in staff training, information technology upgrades and store refurbishments. Stapleton will flush out his strategy in more detail in September.
Halfords shares were down 12.8 percent to 338.4 pence as of 8:35 a.m. in London. On Monday the stock closed at its highest level since the Brexit vote in June 2016.