Haiti Earthquake Recovery Picks Up Speed as Storm Looms
(Bloomberg) -- Haiti's 7.2 magnitude earthquake has killed at least 1,419 people and injured more than 6,900, the country's civil protection agency said late Monday, as the Caribbean nation rushed to help survivors and braced for heavy rain and wind from Tropical Depression Grace.
Facing complaints about slow government response, Prime Minister Ariel Henry said his administration would "act with greater speed" to aid "the maximum number of victims possible." On Monday afternoon, he called an emergency cabinet meeting to discuss the crisis and define "priorities."
The poorest nation in the Western Hemisphere, Haiti has been struggling with food shortages, widespread violence and political chaos in the wake of the murder of President Jovenel Moise last month.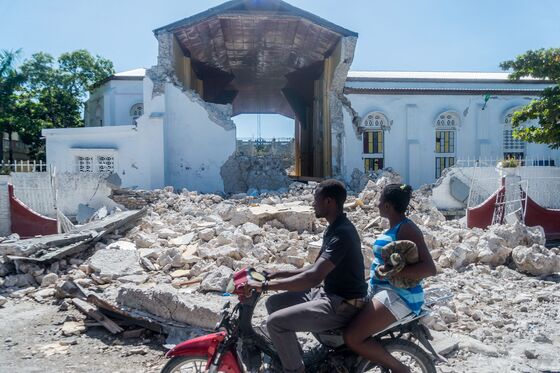 The earthquake hit Haiti's southwestern peninsula Saturday morning, affecting hospitals, hotels, schools, churches, roads and bridges. The U.S. Agency for International Development, citing Haitian government estimates, said that hundreds of public buildings were destroyed and "several thousand" homes were damaged or destroyed.
With many people sleeping outside amid aftershocks, the country's civil protection agency declared an orange alert Monday due to the storm and asked residents to prepare for heavy rain and wind. The National Hurricane Center said Grace could lead to flash flooding and mudslides across Haiti, Dominican Republic, Jamaica and the Cayman islands.
Aid and offers of help have been pouring in from around the region. The U.S., Mexico, Venezuela, the Dominican Republic, Cuba and other nations are providing aid or assisting with rescue and recovery work. The U.S. Agency for International Development said it had sent a search and rescue team to Haiti, and the U.S. Coast Guard was evacuating the most severely injured to Port-au-Prince and other hospitals.
Henry signaled that his government will also exert more control over international aid, writing on Twitter that there was only "one front door for all help from outside and inside."
"For reconstruction, everything must be supervised at the level of the central government and coordinated by the regional directorates," he said.