Guns Didn't Have a Record Black Friday
(Bloomberg) -- There may be fewer guns under the Christmas tree this holiday season as firearms background checks fell on Black Friday after setting a single-day record last year.
The FBI said checks were down more than 10 percent on Black Friday this year. There is no exact count of firearms sold in America, but a common barometer is the bureau's National Instant Criminal Background Check System. There were 182,093 firearms checks on the annual shopping day, as compared to 203,086 in 2017.
The apparent pullback in Black Friday gun sales wasn't from lack of promotions. Guns.com, an online retailer for used and new firearms, offered up to 25 percent off for customers on the post-Thanksgiving shopping day. Gun Broker, a large online resale website, boasted nearly 1,500 listings advertising Black Friday specials. Dick's Sporting Goods Inc., which also owns outdoor store Field & Stream, gave shoppers 10 percent off all firearms on Black Friday, along with doorbusters on various shotguns and rifles.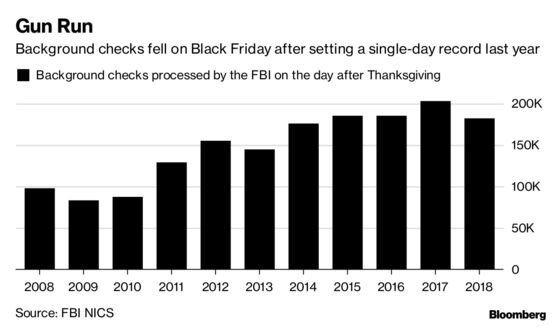 Scrutiny of the firearms industry has intensified this year as social activists seek the implementation of new regulations after a mass shooting at a Parkland, Florida, high school in February. Investors are also starting to join in the calls for reform.
Earlier this month, money managers with more than $4.8 trillion in assets announced they would band together to pressure firearms makers and sellers to change their manufacturing practices to have an emphasis on safety. The investors included pension funds in California, Florida, Connecticut, as well as State Street Global Advisors. Investors in Sturm Ruger & Co. and American Outdoor Brands Corp. also passed shareholder proposals demanding the companies put together reports on gun violence in the U.S., though the reports won't have any impact on the products the companies manufacture.
American Outdoor fell 1.4 percent as of 12:51 p.m. in New York, while Sturm, Ruger & Co. was down 1.4 percent.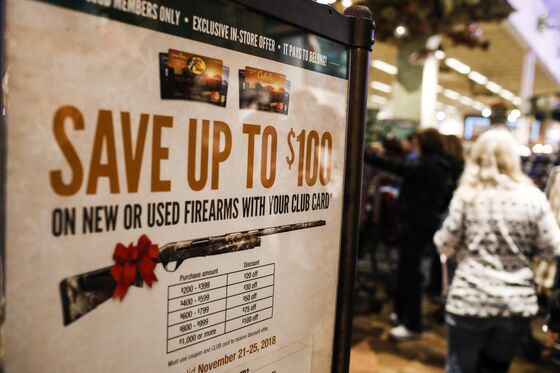 Buying guns has become something of a Thanksgiving tradition in the U.S., with retailers offering discounts and giveaways on firearms and accessories for the holiday shopping rush. Outdoor retailers Bass Pro Shops and Cabela's were open on Thanksgiving before re-opening on at 5 a.m. on Black Friday. Deals at Bass Pro and Cabela's included rebates on Browning bolt action rifles, Ruger semi-automatic rifles and Kimber handguns. Walmart did not advertise guns in its 32-page brochure.
In past years, gun sales have reflected U.S. politics. For example, sales spiked under former President Barack Obama amid speculation that he'd enact new gun regulations. Sales declined after the election of Donald Trump, whose Republican party generally opposes restrictions to firearm access. With a Republican president and senate, the fear that gun sales could be restricted did not materialize this Black Friday, despite the Democrats' gains in the house in the midterm elections.