General Dynamics Falls Most in Decade on Luxury-Jet, Sub Sales
(Bloomberg) -- General Dynamics Corp., fell the most in a decade as the maker of private jets and nuclear submarines reported lower earnings in most of its core businesses.
Profit was pinched by higher costs as General Dynamics ramps up work on a new submarine class and winds down production on an older class that yielded higher margins. The company also began building two new business aircraft, which raises costs as kinks are worked out in the manufacturing process.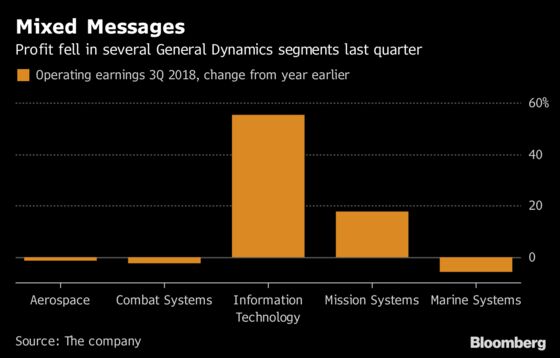 Third-quarter operating earnings fell in three key segments: marine systems declined 5.6 percent, combat systems dropped by 2.4 percent and aerospace was down 1.3 percent, the company said in a Wednesday statement. Total revenue rose 20 percent to $9.1 billion, though fell short of the $9.4 billion average of analysts' estimates compiled by Bloomberg.
The profit shortfalls added to concerns over operating margins that slumped to 12.5 percent from 14 percent a year earlier, overshadowing earnings per share of $2.89 that topped Wall Street's analyst estimate.
General Dynamics plunged 7.7 percent to $173.24 at the close of trading in New York, the biggest decline since October 2008, amid a broad market rout. The drop pushed the company's loss on the year to 15 percent, compared with the 8.7 percent decline of a Standard & Poor's index of industrial companies.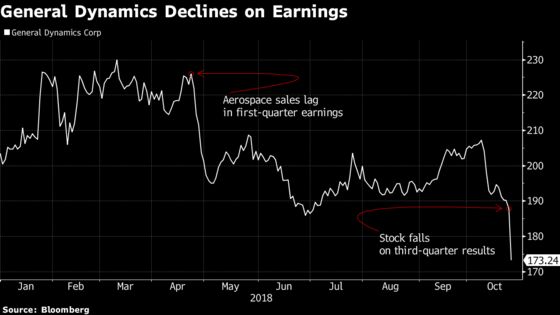 The earnings beat was driven mainly by the federal corporate tax cut rather than operating results, JPMorgan Chase & Co. analysts led by Seth Seifman said in a note. Investors will probably focus on weak revenue, a decline in its aerospace order backlog and more profit margin headwind still to come from airplane deliveries. All told, 2018 targets for the company's submarine and private jet businesses look "ambitious" in light of the results, the analysts said.
Aerospace orders were "certainly satisfactory" for the quarter, but "not as good as we had anticipated," Chief Executive Officer Phebe Novakovic said on a call with analysts.
General Dynamics raised its full-year earnings guidance by 10 cents to between $11.10 and $11.15 a share.