Kering CEO Confident Gucci Can Keep Growing by Branching Out
(Bloomberg) -- Kering SA Chief Executive Officer Francois-Henri Pinault soothed investors' concerns by reaffirming that key brand Gucci still has momentum as it expands in perfumes and high-end jewelry.
Pinault said he's "very confident" Gucci can keep outpacing luxury rivals and extend a two-year recovery. The Italian brand plans to fuel growth by diversifying its product lineup, the CEO said as he opened the door to acquisitions.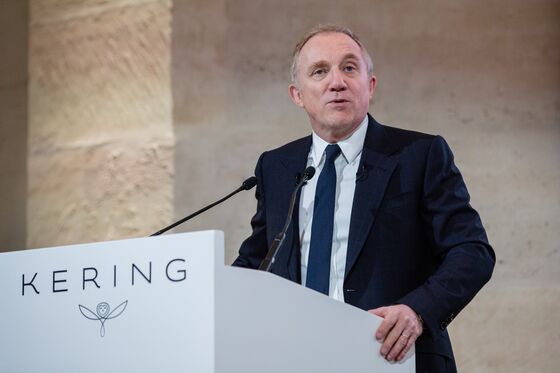 The last of the major European luxury-goods makers to report for 2018, Kering wraps up an unusually strong earnings season for the industry. Kering shares initially dropped after the company said the luxury market "remains unsettled," but recovered after the comments on Gucci.
The stock traded 3.4 percent higher as of 11:16 a.m. in Paris.
The company forecast that the Italian brand's operating margin will exceed 40 percent this year as sales grow more than 10 percent. Gucci is also under-represented in travel retail and its existing stores have room to boost revenue, the CEO said.
Gucci's sales increased 28 percent in the final three months of 2018, continuing a pattern of a slight deceleration each quarter. Investors had high expectations after rival LVMH trounced estimates last month.
Kering may need acquisitions to offset the gradually waning success of the Italian brand, which provides three-quarters of its earnings, wrote Thomas Chauvet, an analyst at Citigroup. The company can be opportunistic as its net debt dropped by almost half to 1.7 billion euros ($1.9 billion) at the end of December.
Pinault said Kering is ready to "seize" M&A opportunities at a reasonable price, though the company wants to avoid bidding wars and doesn't need to make purchases to grow.
Gucci has had some hiccups this year. Kering has said that Italian authorities believe the brand underpaid taxes by 1.4 billion euros, though the company disputes the finding.
Gucci's $500 pink sunglasses and $1,500 monogrammed canvas totes aren't the only thing driving Kering's rapid growth. Yves Saint Laurent grew by double-digits and Balenciaga is approaching 1 billion euros in annual revenue, Duplaix said.
The Gucci owner confirmed a trend seen at LVMH and Richemont, which indicated Chinese shoppers are still buying high-priced items, but more on their own turf rather than on trips abroad. Facing a trade war with the U.S. and a slowing economy, the government has been trying to promote more consumption in mainland China amid reports of tougher controls on undeclared imports.
Demand from Chinese clients remained "extremely dynamic," and the "trend remains excellent" on the mainland, Chief Financial Officer Jean-Marc Duplaix said on a call with reporters.