Guangzhou Airport's Rally Expected to Fizzle
(Bloomberg) -- Optimism over a travel boom in southern China has fueled a surge in shares of China's third-biggest airport. But some analysts say the rally in Shanghai-listed Guangzhou Baiyun International Airport Co. will probably run out of steam soon.
Baiyun Airport has gained 25 percent this year, outperforming a 20 increase in the broader A-share market. It was mainly fueled by bets that last year's 32 percent plunge was too steep. They also advanced on optimism a travel boom and China's plans to develop the Greater Bay area, where the airport is located, will drive traffic.
Expectation of further increase in passenger traffic in Guangzhou, capital of the economic powerhouse of Guangdong province, may mean the stock still holds long-term investment value. But that confidence may have been overplayed in the short run because Baiyun is looking overvalued compared to its domestic peers, and its earnings outlook is clouded by a government decision to withdraw a refund for airport construction, analysts say.
Despite the surge in Baiyun Airport's share prices, overseas investors have been selling the stock steadily in recent weeks. Foreign investors have sold 960 million yuan worth of the stock through the China-Hong Kong stock connect scheme as of Feb. 14 this year, the highest among all mainland stocks traded through the system.
Morgan Stanley analyst Grace Li believes its current valuation is "unjustified" and the recent rally is overdone, given the market's pessimism about its fundamentals this year. "It is still early to turn positive on the stock because fourth quarter 2018 and first quarter 2019 results may still surprise on the downside," Morgan Stanley's Grace Li wrote on Feb 17.
This year's rally has driven Guangzhou airport's valuation premium above its peers. The stock is now trading at 25 times of its blended forward earnings estimate, the highest in more than 11 years. It's also higher than the 21 and 22 times for Shenzhen Airport Co. and Shanghai International Airport Co., according to data compiled by Bloomberg News.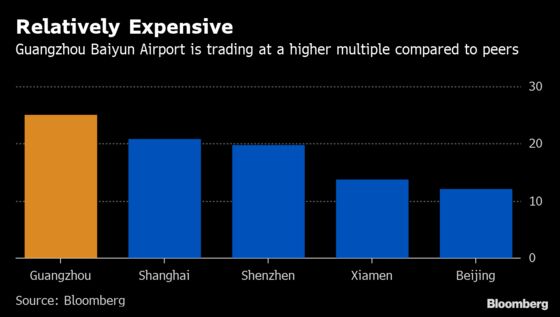 "The rally came after all the bad news on the refund cut and added costs from the new terminal had been digested," said Karen Li, a Hong Kong-based analyst for JP Morgan Chase & Co. "Its earnings will continue to feel the impact from the refund cut this year."
Guangzhou Airport's net income fell 23 percent in 2018 and is set to drop a further 20 percent in 2019, according to 10 analyst estimates compiled by Bloomberg. Shares rose 0.57 percent in Shanghai to 12.40 yuan on Monday morning, against a more than 2 percent in the benchmark CSI 300 index.
The refund, from fees collected from passengers for the construction of airports and other infrastructure projects, contributed to around 12 percent of the airport's annual revenue between 2015 and 2017, the company said in June 2018. It may receive up to 850 million yuan ($127 million) for 2018. The lack of such revenue will weigh on its earnings in 2019.
While the stock's attractiveness may be limited in the near term, its allure may improve in the mid-term as earnings growth is expected to recover in 2020, according to JPMorgan's Li.
China's top aviation hubs will also continue to benefit from the country's outbound travel boom. The Asian nation has been the world's biggest source of tourists for six years. Mainland travelers to overseas destinations jumped 14 percent last year despite an economic slowdown, according to China's Ministry of Culture and Tourism. Growth is expected to remain at 11 percent for 2019, according to a study by China Tourism Academy.
Last week, the government unveiled a blueprint to develop China's southern coastline into a high-tech megalopolis rivaling California's Silicon Valley. The plan may also bolster Guangzhou Airport's position.
JP Morgan's Li said China's airport stocks are appealing to investors in the long-run.
"The stock is unlikely to have an absolute gain but if you take a buy-and-hold strategy, we are confident it can outperform the broader market," she said.