Groupon Surges on Report Discounts Provider Is Seeking a Buyer
(Bloomberg) -- Groupon Inc. surged as much as 14 percent after a report that the discount-slinging website is actively seeking a buyer.
The merchandise and voucher vendor has approached several public companies in recent weeks to try to drum up interest in a sale, Recode reported on Saturday, citing two people it said were briefed on the effort. The report didn't identify the companies involved.
Groupon's shares were up 8 percent to $4.70 at 9:52 a.m. in New York, valuing the Chicago-based company at about $2.7 billion.
A sale would mark the end of a saga for investors who have seen Groupon shares fall more than 80 percent from the peak after their 2011 initial offering, including a 15 percent drop this year through Friday. While Chief Executive Officer Rich Williams has been trying to marshal a turnaround since taking over in late 2015, investors have long expected an acquirer to swoop in and cited companies such as Alphabet Inc., Facebook Inc., Apple Inc. and Amazon.com Inc. as potential buyers.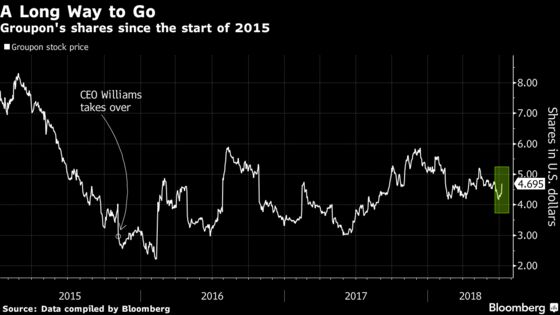 Analysts who recommend buying the shares, including at B Riley FBR and DA Davidson, said that Groupon has been undervalued and its actual performance underappreciated. Groupon is a "complex but strategic asset" that has evolved from daily deals to become a local deals provider with a network of merchant partners, B Riley FBR analyst Sameet Sinha said in a note to investors.
"If the public markets are not giving the company the value we believe it deserves, maybe the right strategic buyer would," wrote Tom Forte of DA Davidson, reiterating his target price of $8.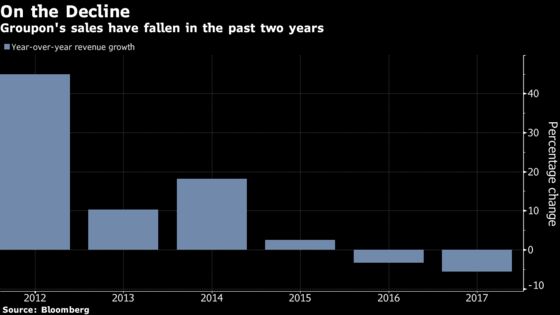 As part of its turnaround efforts, Groupon is refocusing on key markets and introducing new services that are gaining traction with consumers. They include a streamlined mobile app and Groupon+, which lets users get cash back by linking their credit cards to their Groupon accounts.
Those initiatives haven't yet resulted in sustained revenue gains. Analysts have said Groupon needs to demonstrate strong revenue growth to become a robust acquisition target. Meanwhile, it faces strong competition from other sites with ties to local merchants, such as Yelp. Two years ago, it acquired its closest competitor, LivingSocial.