Green-Bond Market Needs to Get Tough to Blossom
(Bloomberg Opinion) -- The green-bond market is turning 10 years oldin a few months. On first glance, it might seem like a burgeoning slice of the financial system. What started with an offering from the World Bank has spread to issuers around the globe, from Belgium and France to Honolulu, Hawaii, and Saint Paul, Minnesota. Volume hit a new high last year and is on pace to set another record in 2018.
Dig a little deeper, though, and investors will find a market still very much stuck in infancy.
The problem boils down to enforcement. For those unfamiliar with green bonds, they're essentially what you'd imagine: securities issued to fund projects that are good for the environment. Think transportation agencies that take steps to reduce greenhouse gas emissions or real estate firms that seek financing for energy-efficient buildings. As Moody's Investors Service pointed out last week, a growing number of sovereign nations are getting into the green-bond boom as well.
The Climate Bonds Initiative is the closest thing to a gatekeeper for the industry. Through its Climate Bonds Standard and Certification Scheme, it provides the option — but not the requirement — for green-bond issuers to verify that they adhere to a set of principles. To maintain the certification, the borrowers must update investors every year, with details such as confirming the value of the project remains at least as high as the amount of debt sold.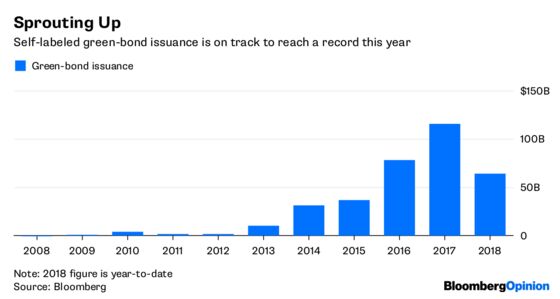 Anyone who has dealt with voluntary extra work probably knows how this story ends. According to a 2017 report from the Climate Bonds Initiative, the total "climate-aligned bond universe" is a robust $895 billion, but green bonds specifically are just a fraction of that, at $221 billion. And yet the group's stated goal is for green bonds to reach $1 trillion of issuance in 2020. 
To say I'm extremely skeptical that the market will grow that much in the next two years would be an understatement. Look no further than a feature this month from Governing, which, at first, seems like a success story. It begins in Lawrence, Kansas, where Finance Director Bryan Kidney has the first page of the city's green bond offering framed and on display. 
"When the projects are fully implemented, Lawrence is projected to save 3,201 tons of carbon dioxide equivalents (CO2e) annually, which is equal to burning 3.5 million fewer pounds of coal. 'I get really passionate about this stuff,' Kidney says. 'I was just so excited that Lawrence stepped up to be a leader in sustainability.'"
It's a heartwarming tale for anyone concerned about the fate of the environment, especially in light of the Trump administration stepping away from the Paris agreement on climate change. But the more you delve into the movement, the more questions arise.
Do borrowers get cheaper financing? Well, not exactly. At best, some smaller U.S. local governments may attract investors who otherwise wouldn't be interested in their debt. Without that added benefit of lower interest rates, though, it's hard to justify the expenses of going through the certification process and maintaining compliance.
Do those who self-label their bonds occasionally cut corners? Naturally. As Governing pointed out, Cleveland's green bond sale in 2016 specifically stated that city officials were under no obligation to make sure the storm water and sewer projects met "any legal or other standards or principles that relate to Green Projects." Still, it was enough for the $48 million Columbia U.S. Social Bond Fund to hold a small slice.
That's by no means meant to scorn the fund. After all, it has grown 55 percent over the past two years, highlighting the appetite for environmentally responsible options in the bond market. As my colleague Nir Kaissar wrote in April, it can be hard to be a socially conscious investor. Equity funds that billed themselves as such actually held large positions in companies like Facebook Inc., which has come under fire for its data-collection practices, and Coca-Cola Co., which is so linked to obesity that some of its website is devoted to how to enjoy its products as part of a "balanced lifestyle."
The ambiguity around what qualifies as green is what's preventing this type of investing from flourishing. Certainly, there was no shortage of dismay at the U.S. withdrawing from a global pact to address climate change. (Note: Michael Bloomberg, founder and majority shareholder of Bloomberg Opinion parent Bloomberg LP, said in April that he would help cover this year's U.S. financial commitment to the Paris agreement.) Green bonds present the opportunity for investors to feel as if they're making a difference for the environment while earning a respectable return in the process.
In the short run, making the green-bond designation more strict might crimp issuance. The Climate Bonds Initiative's own database comes with the caveat that it tracks all self-labeled green bonds, "but it does not provide an opinion on whether the Climate Bonds Initiative agrees." The dream of $1 trillion of sales in 2020 would be even further out of reach. 
But it's not as if the issue of climate change is going away soon, so the industry should play the long game. Make certification a requirement for borrowers to proclaim they're offering green bonds. The Climate Bonds Initiative largely agrees, by the way, stating that "standards, assurance and certification are essential to improved confidence and transparency, and further strong growth in the market." It's not as if the group thinks the current system is perfect.  
For now, though, the organization will just ask for compliance, rather than require it. For the next 10 years to be even stronger than the first, that ought to change.
Brian Chappatta is a Bloomberg Opinion columnist covering debt markets. He previously covered bonds for Bloomberg News. He is also a CFA charterholder.