Greek Premier Vows He'll Persuade Creditors to Ease Budget Rules
(Bloomberg) -- Terms of Trade is a daily newsletter that untangles a world embroiled in trade wars. Sign up here. 
Prime Minister Kyriakos Mitsotakis said he'll make the case for Greece's creditors to ease budget-surplus demands, the latest sign that Europe's most indebted country is leaving its bailout era behind.
Addressing an international trade fair in Thessaloniki, Mitsotakis also announced plans to spur the economy by cutting taxes on dividends and corporate profits and giving tax relief to households hit by years of fiscal austerity.
Mitsotakis's economic agenda has won support from German Chancellor Angela Merkel, while incoming European Central Bank President Christine Lagarde said this week that the budget-surplus target of 3.5% of gross domestic product is holding back Greece's economy.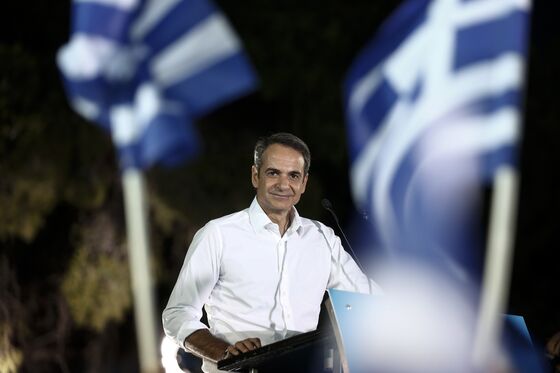 "Using our positive results as a weapon, we can claim more realistic annual surplus targets" Mitsotakis, who took office in July, said in his speech on Saturday. "Favorable international ground is already being created for the reduction of targets."
Signs that Greece is returning to normal after a decade of financial crisis are accelerating. The Greek 10-year bond yield fell to a record low after Lagarde's comments on Wednesday. In August, authorities lifted remaining capital controls after four years of restrictions.
Mitsotakis said the government is in talks with Eldorado Gold for a new investment in Thrace, adding to a project at the Skouries mine in northern Greece. Privatization projects of the state-run gas company and Hellenic Petroleum will go ahead and the process of selling a 30% stake in Athens International Airport will begin in the next few days, Mitsotakis said.
The premier's fiscal proposals include reducing the corporate tax rate to 24% from 28% and cutting the tax on dividends to 5% from 10%. In a bid to boost the property market, tax incentives for new construction and modernizing old buildings also are planned.
Greece's government has long sought a lower primary-surplus target of as little as 2%. Official creditors from the euro area and the International Monetary Fund disagree on whether reducing the target, which was adopted in exchange for debt relief, could risk the country's debt sustainability.
Lagarde took a stand on Wednesday, suggesting that the 3.5% primary-surplus target be revised because it's "excessive and is putting unduly pressure on the recovery of the Greek economy."