Greek Banks Tumble as Italy Adds to Capital Worry
(Bloomberg) -- Greek banks slid as contagion from Italy exacerbated concerns they'll need to raise more capital to deal with their mountains of bad loans.
The FTSE/Athex Bank Index was down 4.9 percent at 3:18 p.m. in Athens, having earlier fallen as much as 7.9 percent. Eurobank Ergasias SA tumbled as much as 14.4 percent before paring its losses to 8.6 percent, while Piraeus Bank dropped 9.8 percent, having earlier fallen 13.6 percent.
Greek banks have fallen more than 40 percent this year amid doubts they can clean up their balance sheets fast enough, as supervisors pressure them to cut their bad-debt holdings. They have also been hurt by bearish market sentiment emanating from Italy, where the government is embroiled in a standoff with the European Commission over how big a budget deficit it can run.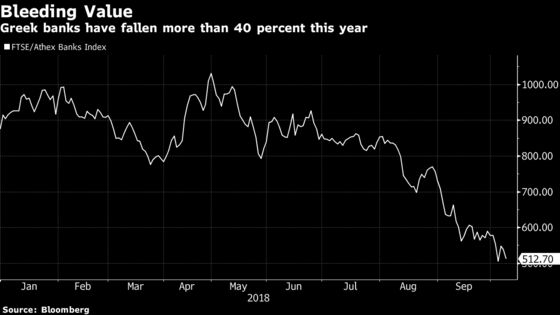 Greek bonds also fell on Monday, with the yield on benchmark 10-year notes rising 13 basis points to 4.64 percent, its highest since Sept. 5. After exiting its bailout in August, the government needs its borrowing costs to drop before it can tap markets.
See BI: Survival of Piraeus, Greek Banks Now in Hands of SSM, Bad Bank
The banks' drop on Monday was the fourth decline in the last five trading sessions. Banks rallied on Thursday after Bloomberg News reported the country is weighing a plan to let lenders unload bad loans into a special purpose vehicle, though that plan could run afoul of European Commission state-aid rules, according to Fitch Solutions Macro Research, part of the Fitch Group.
"The sector's profitability is under pressure and progress on reducing non-performing loans has been slow," Fitch analysts wrote in a note on Monday. "Uncertainty as to how the Greek government will support the sector and whether the solution would involve private investor losses will weigh on investor sentiment, and lead to higher external financing costs."