Sell Off Prompts Greek Banks to Spring Clean Balance Sheets
(Bloomberg) -- Greek bank stocks reeled amid growing concerns about their need for more capital, even as the biggest lenders were said to set ambitious new targets for reducing their piles of bad debt.
The benchmark FTSE Athex banks index dropped almost 9 percent on Wednesday, after earlier in the day slipping as much as 18 percent. Piraeus Bank SA closed 21 percent lower, having slumped 30 percent to the lowest ever after Chief Executive Officer Christos Megalou told Reuters that the bank is looking for an opportunity to issue debt to boost capital. Bloomberg reported on Friday that the ECB told the lender to increase capital this year.
Piraeus must raise about 500 million euros ($577 million) by selling tier 2 bonds under a plan agreed with the ECB's Single Supervisory Mechanism, two people with knowledge of the matter told Bloomberg. Traders say the recent deterioration in the European bond market amid political tensions between Italy and the European Union adds to worries about Piraeus's recapitalization efforts.
The lender is monitoring debt capital markets to identify the right timing for the issuance of the bonds, according to an Athens bourse filing it issued Wednesday in response to press reports. The issuance "remains subject to market conditions," Piraeus said.
Banks including Piraeus and National Bank of Greece SA have sent a pledge to the European Central Bank, committing themselves to reducing total non-performing exposures by about 60 percent by the end of 2021, two people said. The banks currently project a cut of about 27 percent by the end of next year.
Soured loans at the country's four systematically important banks stood at 88.6 billion euros at the end of June, equal to about half of Greece's annual economic output. Greek bank stocks have dropped by around 97 percent since Alexis Tsipras was catapulted into office in 2015, leading to a clash with creditors.
The four lenders, which also include Eurobank Ergasias SA and Alpha Bank AE, and the SSM have yet to agree on the newly submitted targets, the people said. Representatives for the four big banks declined to comment.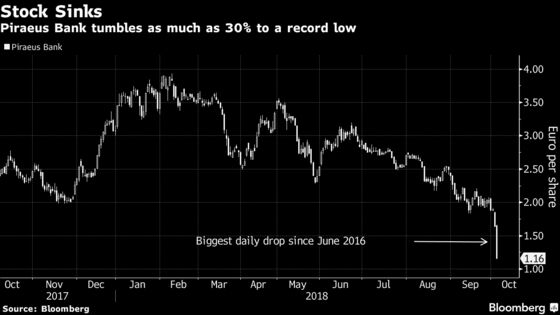 Under the proposed plans, the four lenders would reduce their bad debt piles to somewhere between 15 percent and 21 percent, according to the people, compared with the more than 40 percent they all hold now. Piraeus, which has the highest bad-loan ratio at 54.7 percent, would cut that to 21 percent by the end of 2021.
Most of the reductions would be achieved via loan sales and securitizations of portfolios, one of the people said. Lenders have also said that about a third of the cleanup will be met through auctions of foreclosed real estate assets. Failure to meet the targets could result into regulatory penalties, including demands to raise more capital.
"As ambitious as NPE reduction targets may be, they are expected to remain
at elevated levels for a long period of time, with banks barely expected to generate any capital organically as they allocate all their pre-provision income towards booking top-up provisions over time to increase coverage to levels more in line with the marks observed in the market," Goldman Sachs said in a report dated Oct. 2.
Most of what is considered regulatory capital in Greece's banks consists of deferred tax claims against the country, and that hampers their ability to withstand losses that would come with sharp reductions in their non-performing loans.
Bank                                2021 NPE Target %           Current   

National Bank of Greece        18                                42.1
Piraeus                             21                                54.7
Alpha Bank                         20                                51.9
Eurobank                           15                                40.7