Greece's Alpha Bank Launches Process to Slash Its Bad Loan Pile
Greece's Alpha Bank AE has taken the first steps in a plan to drastically cut its bad-loan pile after the government made it easier to sell soured debt as securities.
The lender has sent potential investors documentation detailing its plans, according to two people familiar with the matter, who asked not to be named discussing confidential proceedings. Alpha Bank seeks to sell 12 billion euros ($13.3 billion) of soured debt and offload its servicing unit.
Alpha Bank wants to wrap up its current securitization project, dubbed Galaxy, by the end of September. Over the longer run, it's targeting a reduction of non-performing exposures to less than 10% of total loans by the end of 2022, compared with around 44% in September.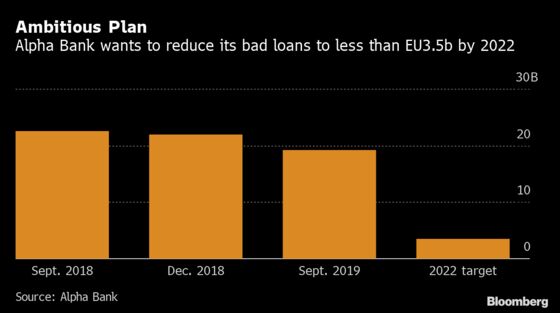 The Greek government in December initiated a plan known as Hercules to help banks repackage bad loans into sellable securities with the state providing backing for the least risky portions. Greece will provide as much as 12 billion euros in guarantees, which is expected to help lenders to cut NPEs by some 33 billion euros.
Read More: It's Show Time for Greece's Hercules Plan to Slash Bad Loans
Alpha Bank plans to apply for as much as 3.7 billion euros of guarantees under Hercules, and has announced plans to sell as much as 900 million euros of Tier 2 notes by 2022 to boost its capital.
A spokesman for Alpha Bank declined to comment.
Bad loans held by the country's banks peaked in 2016 at over 100 billion euros and have since fallen to around 74 billion euros. They've pledged to the European Central Bank's Single Supervisory Mechanism to cut that figure to some 20 billion euros by 2021.