Greece Considers Bank Bad-Loan Plan After Stock Rout
(Bloomberg) -- Greece is weighing a plan to help banks speed up their bad-loan disposals, possibly including a government guarantee, in a bid to restore confidence in the battered sector, people familiar with the matter said.
While the details are still being worked out, the proposal would see lenders unload some bad loans into special purpose vehicles, taking them off banks' balance sheets. The SPVs would issue bonds, some backed by the state, and sell them to investors, the people said, asking not to be named as the information isn't public.
The move comes after a selloff that saw Greek banks drop more than 40 percent this year -- and plunge over the past week -- amid doubts they can clean up their balance sheets fast enough. While they cleared a European Central Bank-led stress test earlier this year, lenders are under mounting pressure from supervisors to cut their bad-debt holdings so they can extend credit and help support economic growth.
Greece's government is constantly discussing new ideas for tackling bad loans with the relevant authorities, Finance Minister Euclid Tsakalotos said at a parliamentary debate on Thursday, without giving more detail. European Commission spokesman Margaritis Schinas declined to comment on the plan when asked by reporters in Brussels.
The plan echoes parts of Italy's effort to stabilize its banking industry. One person said that it could reduce the load of bad loans in Greek banks by up to 15 billion euros ($17.2 billion) from an overall burden of 88.6 billion euros reported by the four systemic lenders as of the end of June.
"The state guarantee proposed for Greece looks quite similar to the one successfully applied in Italy," said Massimo Famularo, a board member at Frontis NPL, a specialist in bad-loan management. "Even though this measure may prove very helpful for banks that need to offload their non-performing loans, it will necessarily involve the placement of junior tranches to private investors, which at the moment may be the most relevant challenge."
The bonds would be traded, helping deepen the market for soured loans in Greece, the people said. The state-owned Hellenic Financial Stability Fund, which owns stakes in all four of the major lenders, is in talks with the European Commission to address potential state aid issues, as well as with the ECB's Single Supervisory Mechanism, the people said.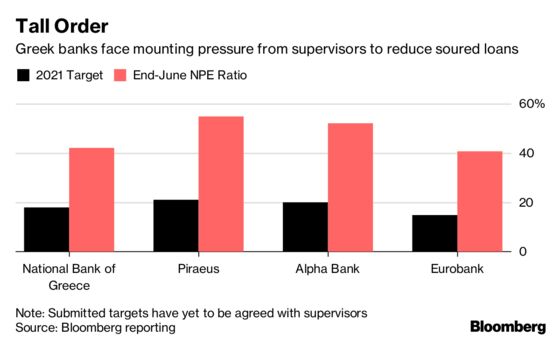 Piraeus Bank SA jumped as much as 13 percent and was up 9.2 percent at 2:08 p.m. in Athens on Thursday. Alpha Bank AE rose as much as 9.1 percent, while the National Bank of Greece climbed as much as 12 percent, the most in two years. The FTSE/Athex Bank Index gained as much as 10 percent, the most in a year, after plunging almost 13 percent in the previous two days.
Although the creation of a so-called bad bank has been considered and rejected by Greece's European creditors in the past, various measures were put in place to protect lenders in Italy, Spain and Cyprus. The renewed push envisages the use of funds from Greece's post-bailout cash buffer and from private investors to address concerns about state aid, the people said.
The Greek government said in a statement on Wednesday that it is in constant touch with the financial stability fund and the Hellenic Bank Association and is promoting "a specific plan of actions which includes -- among others -- the further reduction of bad loans."
A financial stability fund official declined to comment on the asset-protection plan, saying that the HFSF exchanges ideas with European authorities on a regular basis. Spokesmen for the Bank of Greece and the ECB declined to comment.
Under Italy's program, which was agreed with the European Union in 2016, banks can bundle their bad loans into securities for sale and buy state guarantees for the least-risky portions, provided they have an investment-grade credit rating. The guarantee has helped Italy's lenders offload a substantial amount of their non-performing loans. It was used in Banca Monte dei Paschi di Siena SpA's jumbo deal to remove about 24 billion euros of bad loans from its books.