Goldman Sachs-Funded Group Bids A$2.4 Billion for GrainCorp
(Bloomberg) -- A group of Australian investors backed by Goldman Sachs Group Inc. offered A$2.4 billion ($1.8 billion) to take control of GrainCorp Ltd., five years after the Australian government rejected a foreign bid for the crop handler.
The newly formed asset manager, led by prominent businessman Tony Shepherd and Lance Hockridge, the former chief executive officer of rail freight company Aurizon Holdings Ltd., offered A$10.42 a share in cash. That's 43 percent more than GrainCorp's last closing price.
The suitor, Long-Term Asset Partners Pty, has stressed its Australian credentials to GrainCorp -- perhaps seeking to draw a distinction to the 2013 offer from U.S.-based Archer-Daniels-Midland Co. that was rejected on national security grounds. GrainCorp had backed ADM's A$2.2 billion bid, but faced a wave of opposition from farmer groups who were concerned that key grain terminals would fall into foreign hands.
The latest offer comes as GrainCorp's shares were trading near two-year lows amid a drought that's slashed the amount of grain being delivered to its terminals this season. Bloomberg Intelligence has also noted that GrainCorp's profits may drop in the year ended September because of the drought.
GrainCorp, which is the biggest crop handler in eastern Australia and is also a significant supplier of malt, says it hasn't formed a view on the price. It wants more information on the equity investors underpinning the bid.
While the deal would be LTAP's first acquisition, the asset manager certainly has pedigree. Shepherd is a former president of the Business Council of Australia, and other directors include Andrea Staines, who was previously on Aurizon's board.
The complexity of the bid may be a hurdle, with GrainCorp's board noting it involves a complex financing structure with significant leverage comprising A$3.2 billion in acquisition facilities from Goldman Sachs and A$400 million funding from Westbourne Capital Pty.
While LTAP says it doesn't intend to sell any of GrainCorp's assets, it may be tempted by offers for the company's malting business. The malt operations, which provided more than half the company's earnings in 2018, operates in countries including Australia, the U.S., Canada and the U.K. It's unlikely to be considered strategic by the Australian government and could be of interest to many suitors given the good conditions for maltsters globally.
The target's shares surged as much as 34 percent, the most since Oct. 2012, and were up 27 percent at A$9.245 at 11:35 a.m. in Sydney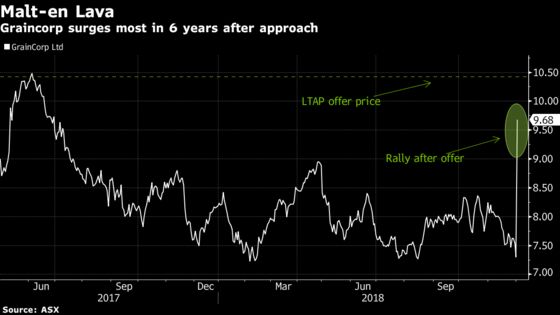 Graincorp to Engage With Bidder After Cash Offer at 43% Premium
Australian Wheat Exports to Slump to Decade Low on Drought